Dinner tonight was from a recipe that I saw on
A Chelsea Morning
blog. I had fresh spinach and wanted to try this recipe. It has chicken, cheese, pasta and spinach. What's not to love? Here's what it looks like.
Nice.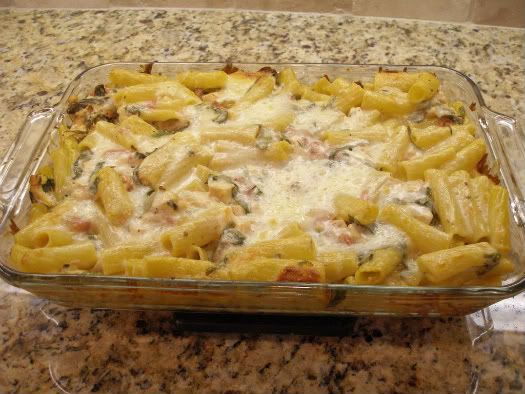 Ooohhh see those craters like things on my dish? It's called fat people. Real fat in cheese that make it taste sooo yummy. I don't want "fat free" stuff in my home. It came to my kitchen once years ago and never came back. Bleh!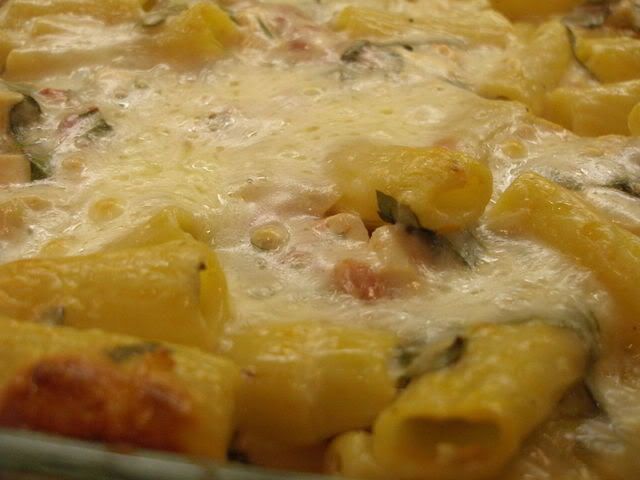 Now doesn't that one rigatoni look like it's smiling from being bathed in delicious cheesiness? Yes, it's terrible grammar but you won't see me cry over it. Lets take another closer look.


Yup! It's happy. My professional taste testers were ready to try it out. It got 8 of the 10 stars. It's a keeper! Here's the recipe in case you would like to try it.
8 ounces uncooked rigatoni
1 tablespoon olive oil
1 cup finely chopped onion (about 1 medium onion)
1 10-ounce package frozen, chopped spinach, thawed
3 cups cubed cooked chicken breast
1 14.5-ounce can Italian-style diced tomatoes

1 8-ounce container chive and onion cream cheese (I use regular)
1/2 teaspoon salt
1/2 teaspoon pepper
1 1/2 cups shredded mozzarella cheese
Preheat oven to 375*
Prepare rigatoni according to package directions. Meanwhile, spread oil on bottom of an 13 x 9 x 2-inch glass baking dish. Add onions in a single layer. Bake at 375* for 15 minutes or just until tender. Transfer onion to a large bowl and set aside.Drain chopped spinach well, pressing between paper towels.Stir rigatoni, spinach, chicken, diced tomatoes, cream cheese, salt and pepper into onions. Spoon mixture into baking dish and sprinkle evenly with shredded mozzarella cheese.Bake, covered, at 375* for 30 minutes. Uncover and bake 15 minutes more or until bubbly.Serves 4 to 6. Serve with tossed green salad and garlic bread.
Bon Apetit!