No, not American biscuits but more like cookies. I'm not a cookie person(yes, yes, such people do exist) but my daughter wanted to make cookies. I notice that she's been wanting to help me cook or bake more often lately. My genes emerging or just a 5 year old wanting to play house? I don't know but I can't say no to baking cookies. Right? Right! So I wanted to make something simple and new. I have never had a snickerdoodle until a few years ago (once again, please close your mouths and yes, they are people like me in this world). So I searched on my food blogs and found this
recipe
. Paula Deen would be proud since it uses 2 sticks of butter.
I made them using my stone board and my Calphalon cookie sheet with a Silpat. The ones from the stone looked better in my opinion so I'll be buying another stone in the future. Here's what it looked like after I was done.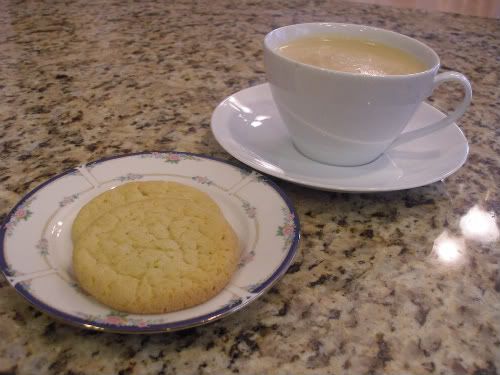 Yes, I love to drink coffee. I stopped drinking it when I got to the US but started to drink it earlier this year to help with my Coca-Cola addiction. Now I'm drink 4 cups a day *soupir* along with a cup of Coke too. Shoot! Anyway, here's a close up of my creamy and yummy coffee.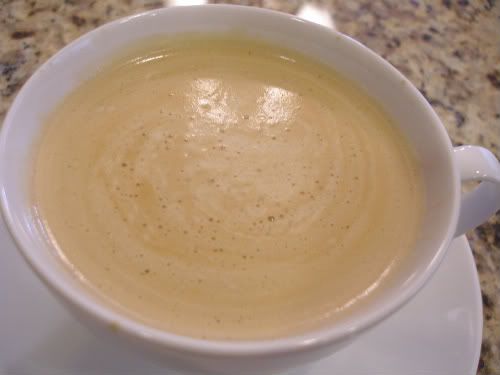 Believe it or not, it does help me fall asleep. My body seems to react to it differently than most people (I won't even go there nor should you, she who shall not me named). Here's the recipe in case you want to add some padding to your behind.
Snickerdoodles
Yield 3 dozen cookies
For the Dough:1/2 pound (2 sticks) unsalted butter, softened
1 1/2 cups sugar
2 large eggs
2 3/4 cups all-purpose flour
1 1/2 teaspoons cream of tarter
1 teaspoon baking soda
1/4 teaspoon kosher salt
For the Cinnamon Sugar
1 1/2 teaspoons ground cinnamon
1/2 cup sugar
Directions:In the bowl of an electric mixer fitted with the paddle attachment, cream the butter and sugar until smooth, 2 to 3 minutes. Add the eggs and mix until combined.
In a separate bowl, whisk together the flour, cream of tartar, baking soda, and salt. Add to the butter mixture and mix on low speed until combined. The dough will be soft and too sticky to roll. Refrigerate until firm, about 1 hour.
Position a rack in the top and bottom thirds of your oven. Preheat the oven to 350°F. Line two cookie sheets with parchment paper or aluminum foil.
For the cinnamon sugar: Combine the cinnamon and sugar in a small bowl.
Using a 1-ounce cookie scoop, or a tablespoon, shape the dough into balls and then roll them in the cinnamon sugar.
Place the cookies 2 inches apart on the prepared cookie sheets. Flatten them slightly with your fingertips so that they stay put. Bake for about 12 to 13 minutes, or until the bottoms are slightly golden in color. These cookies are supposed to be chewy, so do not overbake. Remove to a wire rack to cool.
Snickerdoodles keep in an airtight container at room temperature for up to 4 days. For longer storage, freeze well wrapped in plastic wrap and then aluminum foil for up to 3 weeks. Do not uncover before defrosting.
Bon Appetit!