I no longer have a kindergardener. Yesterday was technically her "last day" of school and today was "promotion" day. I can't believe it. I now have a school aged child. I used to be a mom of little kids (under 5) and now I only have one small boy left. sniff. sniff. Where does the time go? I still remember vividly putter her little white onesie at the hospital while her was holding hubby's pinky finger. sigh My baby is going to be 6 next week and will be in first grade this August. Man I'm old! lol

Grandpa Bill came also to see her being "promoted". She and 2 other children out of about 100 were being recognized in having a perfect attendance through out the year. No late days or going home early. She liked it that people clapped and felt proud. One mom said it's really hard and I should be proud of my daughter and myself in making sure she did go to school on time, everyday.

They did some songs and little hand moves and was then promoted. The children's teacher also told the audience what each child would want to be when they grow up. My daughter was the only child with her answer....she wanted to be a mom. Yeah yeah. I heard "awww" but I know why my daughter wanted to be a mom. So that she can wear makeup, have her nails done and wear my high heel shoes, cook in my kitchen and put the children to bed. lol People were commenting how sweet she was and it was a great compliment since I must be doing something right for her to be like me. Ahuh. I know it's mostly about the nail polish. lol Doesn't help her friend next to her had make-up and nail polish. sigh
Here she is beaming up at her Daddy.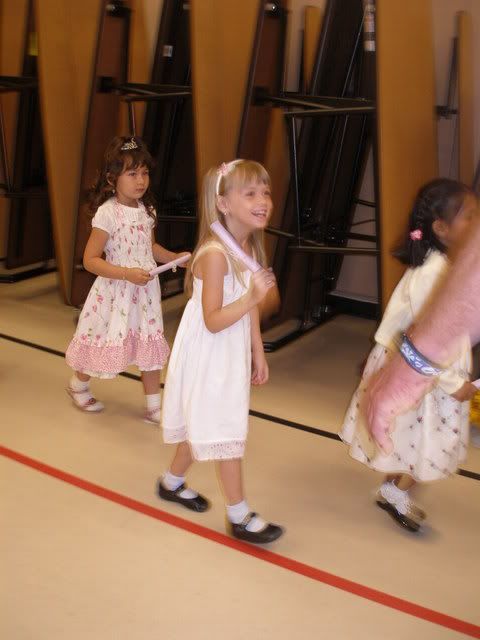 Here she is with her teacher. Once at home, she was sad that she won't have her teacher anymore. I told her the next teacher will be great too and that mommy will still have contact with her old teacher. My teacher's gift is some housecleaning done at her home. I know she will love that!
This fall I will have a first grader. *
shudder
* This summer we will be having fun and doing what her teacher suggested: keep pushing her academically since she is one of the top students in her class. We'll be practicing math problems in our heads instead of fingers. Mommy(used too) and Daddy work in accounting, so lets hope she has a knack with numbers too. Going to be a busy summer!
A Bientot!