Even though I am ready for Fall, it's still hot in Nor Cal. I wanted something light for dinner so I decided on a salad. Now my husband is not a salad person. There can be chicken or seafood in it, it's still not a meal for him. This could be good as a side dish (for hubby) or a main dish (for moi).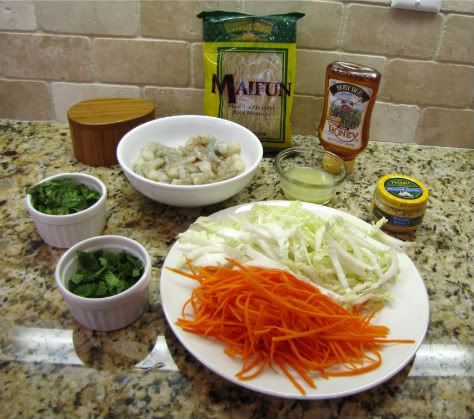 Ingredients
1 pkg Rice Noodles
1/2 lbs Raw, unshelled shrimp
1/4 cup Fresh lime juice
1 cup Cilantro, chopped
1/4 cup Mint, chopped
3 Carrots, julienned
1/2 cup Napa cabbage, thinly shredded
4 cloves Garlic, minced
1 1/2 tbsp Honey
1 tsp Kosher salt
Roasted, chopped peanuts (optional)
Get a pot of water and get it boiling.
In the meantime, get a fry pan and add some olive oil (I used garlic oil to give the shrimp more ompf!) Cook for no more than 2 minutes on medium high heat. Set aside when cooked. Remove from heat and pan.
In a food processor, add the cilantro, garlic, lime juice, honey and salt. Puree it until it's smooth.
The water should be boiling so add the noodles. It will take you about 2 minutes to cook it since it's so thing. When done, rinse in cold water very well.

In a large bowl, add the vegetables, noodles, sauce and some of the mint. Toss well.
Mmmmm...yummy! This baby was all mine!
Now garnish your plate with mint and roasted chopped peanuts for crunch.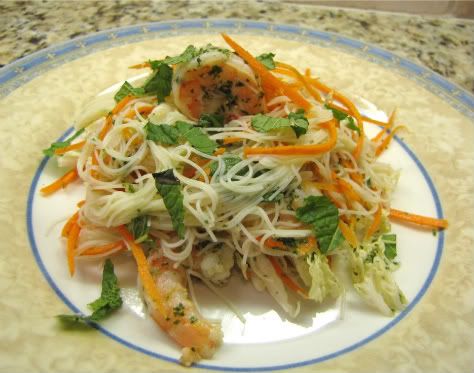 I like this salad but I am a salad person. This would be a great side dish for summer or to bring to a potluck. My daughter likes it but the men in my house were not impressed. lol Too bad. I'm the chef in my house. lol
A Bientot!