I have lived in Nor Cal for almost 10 years and have never been to Apple Hill. It's an area in Placerville that have many fruit orchards. I remember as a child picking apples so I thought my kids are old enough to understand the whole concept of apple picking. I invited my father-in-law to come with us since he might enjoy it too.

Off we went to a cute and small orchard. There wasn't many people there because there was no huge attractions for children (no ponies, no bouncy house, no trains, ect). It was perfect! Willow Pond is dog friendly and is an oganic orchard too. Unfortunately, last Tuesday's wind storm blew half of the apples down. Toward the back of the orchard we did find nice ones though. They still has red and golden delicious apples. Nice combo for applesauce.

Lets get cracking! I don't feed you kids for nothing! Get to work! lol
Who needs a ladder when you have a tall husband?!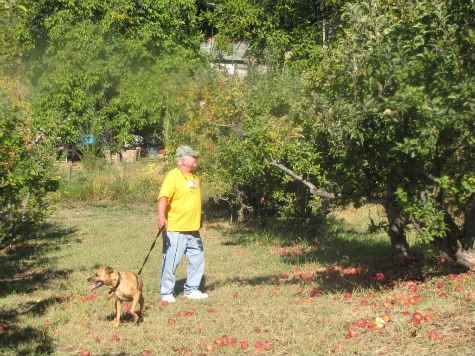 Grandpa helping my daughter to pick an apple.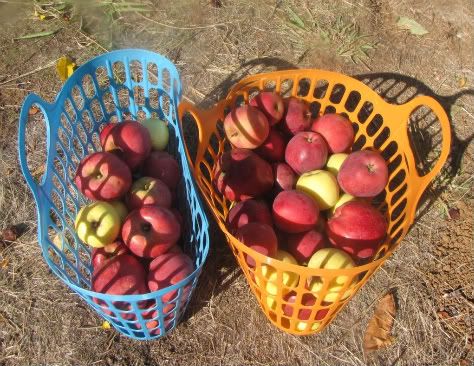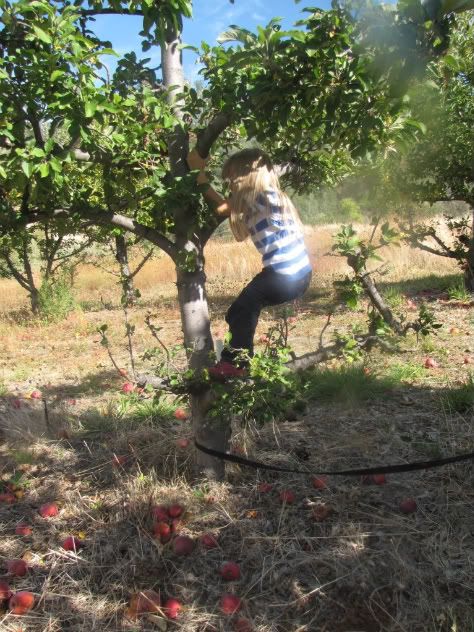 Grandpa helping my son pick one too.
We bought about 29lbs of apples. We then went to sit at the picnic area and got the kids ready for the rowboat. The kids loved it. I wasn't sure how still my son would be but he just sat there and looked at the water. It was so peaceful just sitting there.
Our visit was perfect except for a dog that was NOT on a leash and attacked our dog. Nipped her ears a bit but she was ok. I also put my hand close to her harness to see if I get that dog off her neck. I guess that dog could of bitten my hand off but I wasn't thinking about my hands. I was thinking about my Sandy. If you know your dog can get aggressive with other dogs, put it on a leash! When we were outback at the orchard, that dog came back toward us! We all yelled "No!" and that dog just stopped. lol Maybe it was because my son had a stick too. lol
The sun was coming and going during this point.
A picturesque photo of an old farmhouse while my husband is rowing a boat for our kids.
We then stopped at another orchard but only stayed for 15-20 minutes. It was mayhem. Ahh no thank you. We left and went to eat out instead. With our bellies full, we then headed home. The car ride back home went mostly quietly. I think everyone was tired since we left home at 9:45am and got back around 3:30pm.

Today will be a busy day for me making applesauce and maybe a pie. Those apples are already sweet so I may just make a cobbler instead. Or a crisp. So many possibilities!

A Bientot!