It's cold outside and you want a hearty meal that everyone in your family will eat. Kids like pasta and cheese, right? Here's a dish that has 3 different cheeses that blend well together. You should see the men in my family when they eat it. I think my hubby purrs after his second helping.

Alright, enough about this meal. Lets make it.

Ingredients.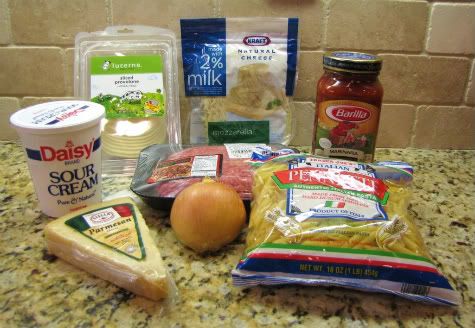 1.5 lbs Ground meat
1 lbs Ziti or mini penne pasta
1 Half onion, chopped
1 16oz Sour Cream
2 cups Mozarella cheese, shredded
1 cup Parmesan cheese
8 oz Provolone cheese
1 Jar of your favorite pasta sauce
Olive oil

Preheat oven to 350.

Get a skillet on medium hight heat and start saute the chopped onions with about 2 tbsp of olive oil. Once translucent, add the ground meat. When the meat is fully cooked, add the jar of pasta sauce and let it simmer for at least 15 minutes. I would recommend 30 minutes since you want the meat to "soak" in the sauce.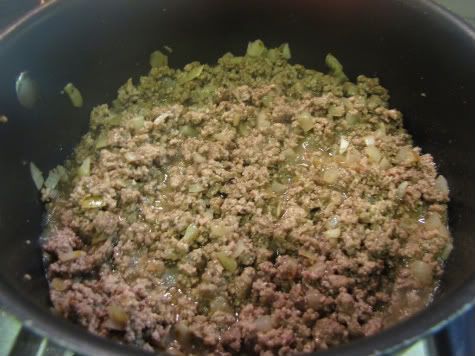 Get a stockpot with boiling, salted water and cook the pasta as per the direction on the package. Do not cook it completly since it will get cooked once more in the oven. When done, drain and set aside.

Get a 9 x 13 baking dish and spray it with cooking spray. Spread the dish with half of the pasta. Layer the pasta with the provolone slices, then sour cream and half of the meat sauce.

Now add a layer of mozarella cheese, the rest of the pasta then meat sauce. Top with some grated parmesan cheese. Bake in oven for 30 minutes until it bubbles.

Once cooked, remove and let it rest for 10-15 minutes. Ahhh!
Oooohh! Lovely melty cheese goodness! Serve with warm rolls and a crisp salad. A tip for busy women out there. You can make this and freeze it. It freezes well and it's much healthier than those frozen dinners. Trust me.
Bon Appetit!