I'm sure many groans were heard yesterday after eating so much food. I was fine UNTIL I had a piece of pumpkin cheesecake. That's when I felt my pants getting too tight. soupir This year I made a different rub for the turkey. It turned out good. Made stuffing and cranberry sauce for the first time too. I have to say, my stuffing rocked! lol I really liked it. Didn't think I would since most look thick and pasty. Not this one. I will share the recipe on a different post.

Here's a close up of a great salad. This too I will post the recipe on another day. Yummy!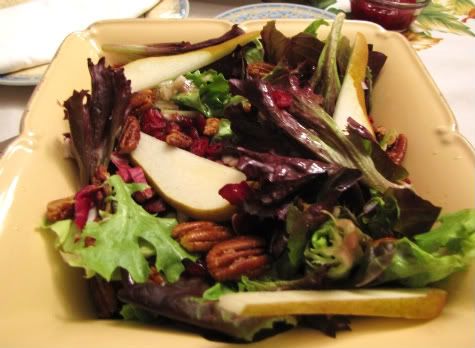 The bird.
My table.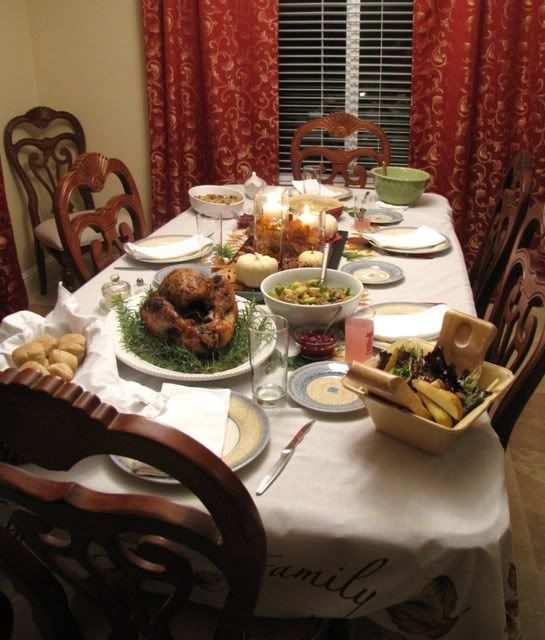 This morning I made a nice breakfast which included pumpkin pancakes. It was a hearty breakfast that should tide us over until lunch time. The kids are so happy that hubby's dad spent the night with us. Now that's what I'm thankful for. Family staying close and my children's happiness.

I did some online shopping last night instead of venturing at the stores. I got great deals plus I had discount codes on top of free shipping. Did that all while sipping coffee and not being shoved by a mom grabbing some Gymboree clothing. lol Some women have that crazed look when it comes to sales. Yikes! I don't want to get shoved and wait a long time to pay for my items. No thank you.

Now we are all here relaxing. Grandpa is playing with the kids in the playroom. Hubby is watching some movie on his laptop and I'm watching Judge Judy telling someone they are dumb. Love that show! lol Off to grab a piece of cheesecake before it disappears...

A Bientot!