I saw this recipe at
Taste and See
and decided to try it out. My kids have never eaten cauliflower made by me and that's bad. They love broccoli so why not cauliflower? The recipe is a winner too since my "I don't like vegetables" husband kept snacking on them while dinner was in the oven. Ding ding ding!

Ingredients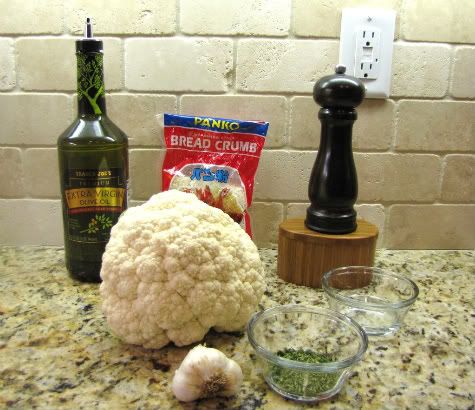 6 cups Cauliflower florets (I used one medium size cauliflower)
3 tbsp Olive oil, divided
2 tbsp Water
1/2 cup Panko
1 Garlic clove, minced
1/2 tsp Salt
3/4 tsp Freshly ground black pepper
1 tbsp Fresh parsley (I had none so I used 3/4 tbsp dry parsley)


In a microwave safe bowl, add the cauliflower florets and water. Microwave on high for 6 minutes until it's tender. Drain water and set aside.
In a skillet, heat 1 1/2 tbsp olive oil on medium high. Add the panko and lightly roast them by stirring constantly. Once it turns golden, remove panko and set aside.
Add the rest of the olive oil and add the minced garlic. Cook until it becomes flagrant (less than a minute). Now add the cauliflower and saute for about 5 minutes.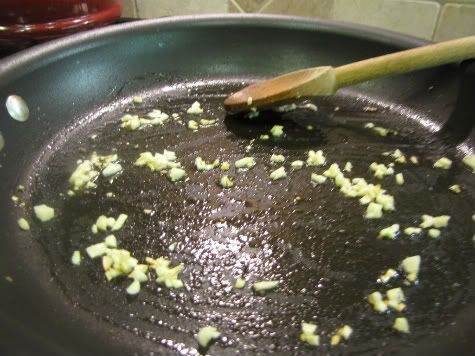 Add the panko, parsley, salt and pepper and mix well.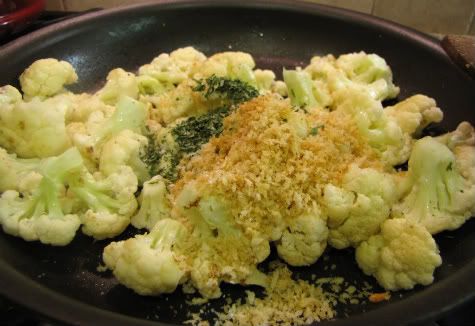 Final product!

I have to say, I could eat the whole thing myself. It's that yummy. I loves vegetables but my husband does not share my love of them. I was shocked when he kept sneaking some while I was cooking. Half was gone when it was time to eat. My husband? Eating vegetable without my pushing it at him?? Incredible!!! Try this recipe and maybe your non-loving vegetable kids (ahem husband) will enjoy them too!

Bon Appetit!