I remember having nachos for the first time when I moved to the States. The dish looked different from what I was used to but I was willing to try new things. Turns out it's pretty tasty. I have eaten it maybe 2 or 3 times in my lifetime but have never made it myself. Never really thought about it until a few weeks ago.
I saw a recipe on
Blissfully Domestic
for baked beef nachos...for dinner. Nachos for dinner? I was game so I went ahead and made it. The result was a tasty but messy meal. Hubby and I agreed this should be a party dish than a dinner meal. My son loved eating it with his hands but my daughter though it was too messy and finished it with a fork. I personally wouldn't recommend as dinner but I'm old fashion and prefer a more traditional meal. Your kids might love it though.
2 cups Shredded cheese (you can use whatever cheese you like)
1 pkt Taco seasoning (get low sodium if you don't make your own taco seasoning)
Preheat your oven to 350.
Add about 2 turns of olive oil in a skillet and saute the onions on medium heat. Once the onions are done, add the ground meat and brown it. Strain any fat since we don't want oily nachos. Yuck!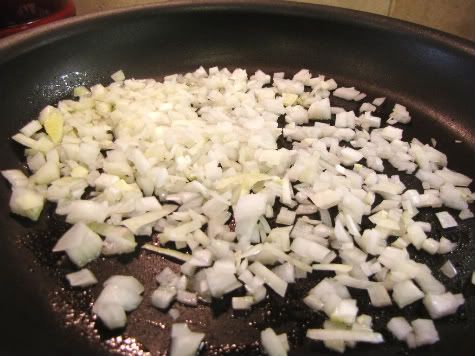 Now add the seasoning and tomatoes. Let it simmer for 15 minutes.
Get a 9x13 baking dish and spray it with non stick cooking spray. Lay a good layer of tortilla chips at the bottom.
Add the beef mixture on top of the tortillas. Top it then with cheese.
Bake it until the cheese is all melted.
Once done, you can now add whatever stuff you like: sour cream, green onions, black olives, etc.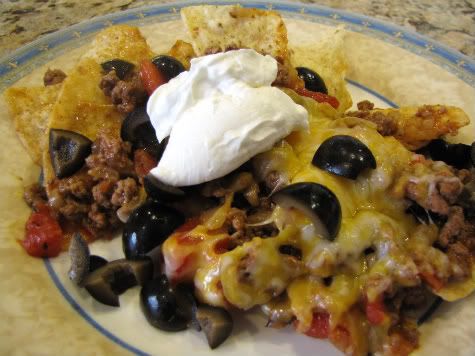 It was yummy but I think I would make this for a party than a meal. That's for you to decide.