Remember when I said I was contacted by
CSN
to review a product from their store? Well I got it this week! What did I get?? A dog bed for my Sandy. Hers was getting very old and she needed a new one. It was the perfect time to get her a bed and review
CSN
many websites.
The first order that I made, the color was not as I expected. It is of no fault to CSN but the color sample of burgundy on the website is more like a purple color than burgundy. I went ahead and returned the bed and was able to order the same bed but in red. Customer service was quick and very nice. No problem in returning the item but had to eat a small delievery fee for returning it. I understood that before ordering the product and it was a small amount so no biggie.
Did I get the correct color? Yup! It was red and it looked cute too! I ordered a large size bed for her since she's not a petite dog.
My son wanted to try the bed out first and he said it was comfy. Sandy will be happy then!
Here she is laying in her bed with her favorite blanket. She's happy and so am I!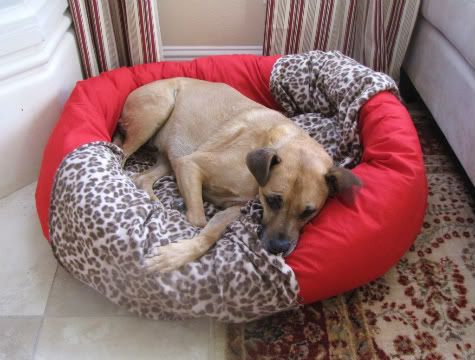 I prefer online shopping and I will add CSN into my favorites online store list. Many of their items offer free shipping so you probably won't have to worry about shipping cost. Their customer service were very polite and efficient so it's good to know customer service is still alive in these days. Go and check them out and see if there's anything you need or want!