A few weeks ago my husband decided to do something with our walk-in-closet. Remember the post about a delievery that I got? Well it was hardwood! Unfortunately, out of the 4 boxes, only one was the correct color. lol Hubby had to call and the company promised to send us the right ones. A few days later, we got it and hubby couldn't wait to yank the carpet out!
Here's what my closet looked right after hubby decided to take the baseboards out. Also, don't mind the walls. I was starting to paint them but never got around to finish them since he installed the floor in one day.
Don't mind the clothes and boxes. I was moving things around while painting. Not the best way to paint but with 2 kids, I have to make do. Also, the quality of the photos suck! No good lighting.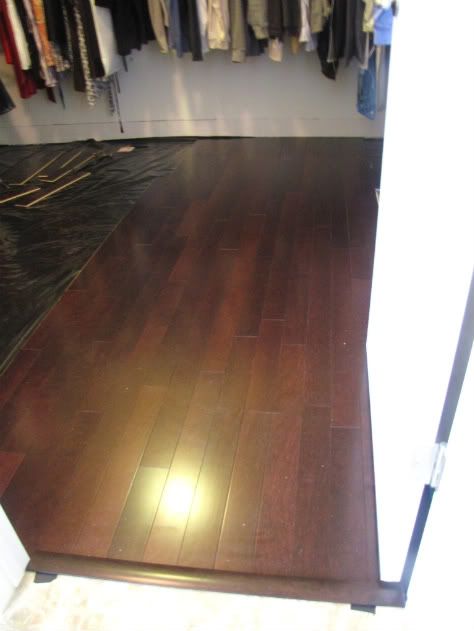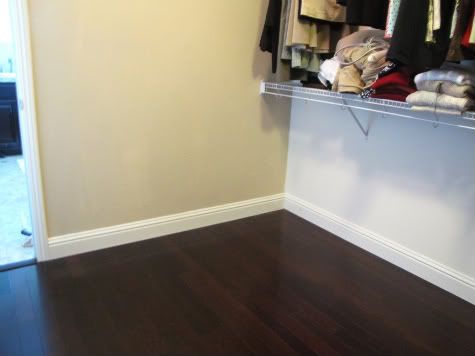 I have to say...I LOVE IT!!! Coming from the East Coast, I am used to hardwood everywhere so carpet was never a love of mine. Sure it's soft "the good expensive ones" but then it gets used up really quickly, stains and traps dirt inside. I prefer a hard surface and I can always put a rug if I really crave a soft surface.
It'll make sweeping a breeze and hubby is happy to vacuum one less room. lol It's a pretty big closet so it needs to get vacuumed since the kids love to play in my closet. Yeah, it's another playroom for them. soupir Well at least spilled goldfish will get easily sweeped up!