So today is Earth Day. I thought I could show you guys what I like to use when going grocery shopping. I hate hate hate all these plastic bags that I get from Target and Safeway. They sometimes don't fill it up correctly or double bag it when really, it doesn't need to. My garage has so many of these bags. I try to use them for garbage or fill it with whatever to give to someone. They are usefull when I do a garage sale since that way someone doesn't have to carry a million tiny baby clothes in their arms. Anyway, here is what I use when I go shopping. I need to buy canvas bags so that I can eliminate my plastic bags usage altogether.
(PS. Ignore the smudge on the left side of the table. One word : Christopher)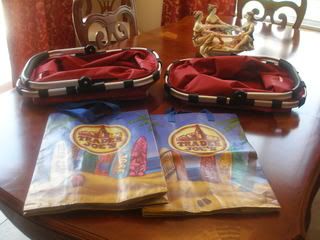 I love love love my red baskets! They look and feel nice. They are collapsable and have a zippered pouch if I wanted to carry money or something small inside. I use these when I buy my produce at my local farm or at a grocery store. I have had lots of compliments on them. I bought them last year at TJMaxx for about $10 each. Worth every penny! If you can't find these, here's a link where they sell them.
http://www.reusablebags.com/store/reisenthel-market-basket-p-726.html
The Trader Joe's bags were $0.99 each. They have other kinds of bags there too if you're not lovin' the surf boards.
Now go out and buy at least ONE reusable bag. Doesn't have to be expensive or chic. Most grocery stores sell them although I find them small. I also discovered (yeah, I should look at my receipts more closely) that my Safeway actually gives me $0.03 per bag that I bring. I know Winco gives you $0.06 for each bag that you bring to them. Also, check your local Trader Joes. Mine puts your name in a drawing for free groceries when you bring a reusable bag. Free grocery? Oh heck ya I want that!
So, be a bon citoyen ou citoyenne of the world and do something green today.