So today I wanted to try something new. I didn't have all the ingredients but most of it. I replaced the soba noodles with linguine and I did not have any cucumber. It was easy and fun to make. Here are what each step looked like. Yeah, I'm a nut.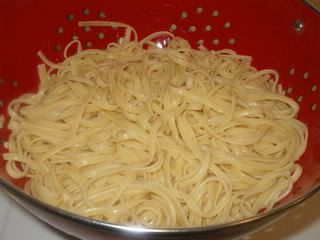 So the final opinion is that the kids liked it but hubby was so-so. Myself? I'm ok with it. Peanut butter was very strong in this recipe. The recipe is simple enough but I think it needed something extra. I'm sure the sesame seeds would of been good but the sauce itself not that great. I think I'll try to tweak this recipe. Make it tastier. Here's the recipe.
Peanut & Sesame Noodle

For peanut sauce
1/2 cup smooth peanut butter
1/4 cup soy sauce
1/3 cup warm water
1 tablespoon chopped peeled fresh ginger
1 medium garlic clove, chopped
2 tablespoons rice vinegar
1 1/2 tablespoons Asian toasted sesame oil
1 tablespoon honey
1 teaspoon dried hot red pepper flakes or a splash of the hot sauce or chili paste of your choice

For noodles
3/4 lb dried soba nooodles (dried linguine or thin spaghetti)
4 scallions, thinly sliced
1 red bell pepper, cut into 1/8-inch-thick strips
Half a seedless cucumber, thinly sliced
1 cup firm or extra-firm tofu, cubed
3 tablespoons sesame seeds, toasted

Purée the sayce ingredients in a blender or food processor until smooth, about 2 minutes
Cook pasta in a 6- to 8-quart pot of boiling salted water until tender.
Drain in a colander, then rinse well under cold water.

Add pasta, scallions, bell pepper, cucumber and tofu to sauce, tossing to combine.
Garnish with toasted sesame seeds and serve right away.