So I finally filled my raised garden bed with soil. I think I had to buy around 30 bags or so? Either way, with the help of my daughter, we planted some tomatoes, bell peppers, zucchini, eggplant, green beans and cantaloupes. I have never grown cantaloupe so I have no idea if it will take. I know those suckers will grow long vines so I'll be ready for that. I need to make some sort of tipee for the green beans. I remember my parents growing them in on of their homes. It was row after row after row of green beans. As a child, I liked running between them. My kids can't do this with our yard but my daughter is excited to see the plants grow.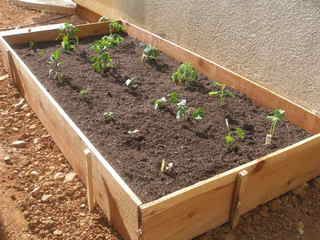 After we were done planting, both kids helped with watering the plants.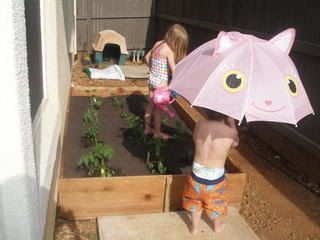 And everyone knows you have to get in the vegetable bed in your swimsuit while someone holds a pink kitty umbrella to water the plants. What??? You didn't know? Learn something new everyday, huh?


A bientot!