So my clubhouse offers dance classes for toddlers and bigger kids. Nothing structured. Just moving around and having fun type of class. My friend K's daughter and my own went to the class. They had fun running, hoping, skipping and crawling. My friend and I just kept taking pictures of them. We kept trying to make them look at us for photos even though they are suppose to listen to the teacher. Bad bad mommies!
Here they are posing for us after the lesson. My daughter's costume is wayyy to small for her. It's 2 years old...I think she outgrew it. Now I need to get her a new dance costume. sigh.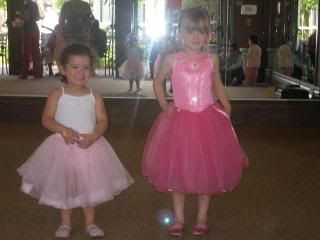 Aren't these the cutest petites filles in the world? I know I am biased with my own. He he he
A bientot!