This Sunday, I wanted to make our last breakfast with my father-in-law special. I decided to make my...well Paula Deen's baked french toast. You make this dish the night before so that next day, you only have to make the topping and bake in the oven. How simple is that? As I was making it, i notice I had no pecans left. Crappola! I had to improvise and used walnuts to make my "praline" topping. Hmm maybe it should be called "walnine" topping? Anyway, it turned out good. I always use less sugar in Paula's recipe. Man, that woman LOVES her sugar. Not to mention butter and mayonnaise. LOL Here's what it looks before popping in the oven.

And this is what it looks like after.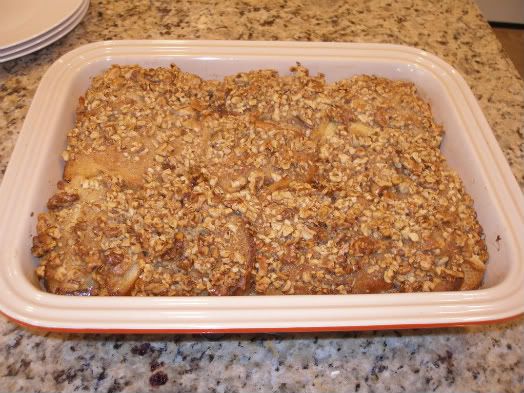 Top it off with a little drizzle of pure maple syrup (not those maple syrup imitation please! Respect the French Toast!). Add some fresh strawberries and yum! I should of made fresh whipped cream too! Darn! Next time. The recipe is from her book Paula Deen & Friends but you can find a similar one on food network. The praline was just pecans (or walnuts in this case), light brown sugar, melted butter and maple syrup. Voila!
Bon Appetit!