I am typing this post while eating my 8th dinner roll. Since my kitchen got back in business, so did my baking. Hubby missed since since I rarely baked anything sweet or savory since we moved about a year ago. I haven't made bread for a long time and decided today would be the perfect day. I saw this recipe on a cooking blog (of course) and decided to try it out. I found it a bit on the sweet side so I guess sweet diner rolls are more accurate. I can cut down on the sugar if I wanted to but hubby said it was good as it is. Okay then! Here's the whole process.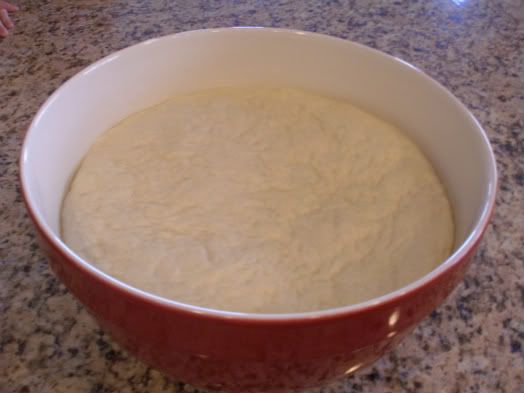 My daughter wanted to help with the knots in the bread. Some came out ok......others not so much.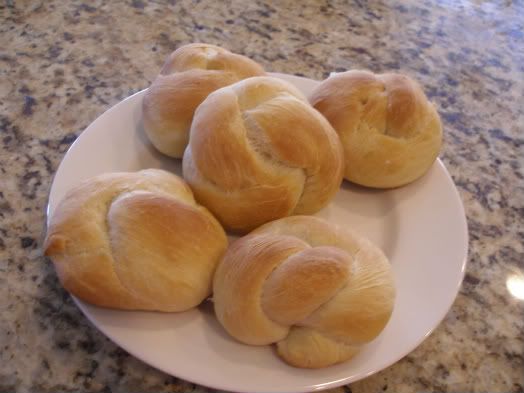 She was very proud when they came out of the oven. We ate the first batch of rolls in 10 minutes flat. Seeing my kids eating them and my daughter saying I make the best bread ever, reminded me why I used to bake. Make people happy and knowing what goes in their bodies. I baked some halfway so that I can freeze them and whenever I need bread, I pop some in the oven to finish baking. Here's the recipe in case you feel like kneading dough.
Freeze and Bake Dinner Rolls
Ingredients:
2 pkgs. active dry yeast
1 1/2 c. warm water
2 t. plus 1/2 c. sugar, divided
1 1/2 c. warm milk
1/4 c. vegetable oil
4 t. salt
7 1/2 to 8 1/2 c. flour, all-purpose
melted butter

In large mixing bowl dissolve yeast and 2 t. sugar in warm water; let
stand for 5 minutes:
Add the milk, oil, salt and remaining sugar. Stir in enough flour to
form a stiff dough. Turn out onto a floured surface; knead until smooth
and elastic, 6-8 minutes.

Place in a greased bowl and turn once to coat top.
Cover and let rise in a warm place until doubled, about 1-1/2 hours

Punch dough down. Divide into four pieces:
Cover three of the pieces with plastic wrap. Divide one piece into 12
balls:
Now comes the fun part that the kids will love to help you with. Form
the dough into knots by:
rolling each ball into a 10" rope:
Next, tie into a knot:
And pinch the ends together:
Repeat with remaining dough and place on a greased cookie sheet; brush
with melted butter:
Cover and let rise until doubled, about 20 minutes.
To serve immediately, bake at 375 for 15-18 minutes.
For the ones you will freeze, bake at 300 for 15 minutes (they will be
partially baked) and allow to cool completely.
Store and freeze and grab a few out for each meal and bake at 375 until
brown.