I don't know about you but when it's close to 90+ degrees, I dislike using my oven. Just makes the whole house too warm. Enters pasta dishes. They're great. You can eat some hot, warm or cold. I tried this recipe from
The Pioneer Woman
and my family loved it. I like her writing style. Simple and has some humor to it. Anyway, it's a pasta dish that I have been making this summer.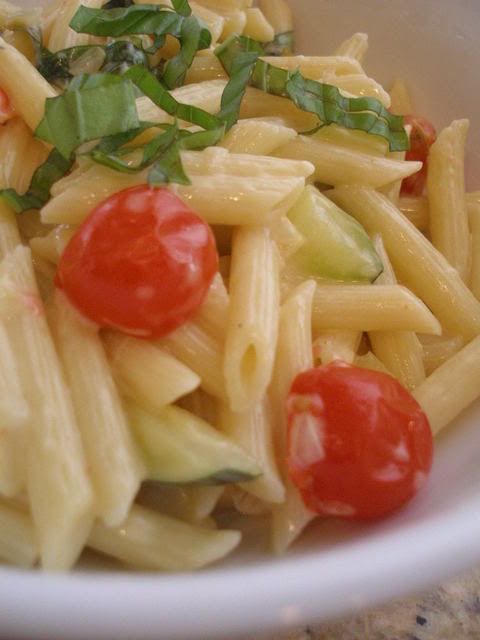 Here's the recipe if you would like to try it out.
Farfalle with Zucchini
4-5 medium zucchini chopped
1 medium onion diced
3 cloves of garlic, chopped
One pint Grape (or Cherry) Tomatoes, halved
2-3 TBSP of Olive Oil
2/3 cup White Wine (or Chicken Broth)
1lbs of Farfalle (had none so used mini penne)
1/2 to 3/4 cup cream (I use 3/4 of a cup)
Parmesan Cheese
1 TBSP of Arrowroot
bunch of basil julienned
bunch of chives (I forgot the last time. oops) chopped
kosher salt and paper to taste
Lets start! Get a pot of boiling, salted water and add the pasta.
Get a good size skillet or pan and pour some of your olive oil in it. Add your chopped zucchini and brown it a bit. Add some salt since it needs flavoring. About 2 pinches of kosher salt. When the zucchinis are browned, transfer them to a plate.
Now add some more olive oil to the pan. Add your onion and garlic. When onions are translucent (that means see thru in cooking lingo. Yeah, I'm that cool) add your halved tomatoes. Let then cook for about 2-3 minutes on med-low. Now add your 1/3 cup of white wine to deglaze (another fancy cooking word that I know) all the goodies that might of stuck to the pan. Use your wooden spoon to scrape everything at the bottom.
Pour your other 1/3 cup of white wine in a small bowl. Add 1 TBSP of arrowroot and whisk it until it's all blended well.
Add your wine mixture to the pan and start stirring. It will get very thick so don't freak out! It's ok. I'm here to guide you.
Now add 1/2 to 3/4 cup of cream. Mix it well and add the cooked zucchini. Now if the sauce looks too thick for you, you can add some of that salted pasta water in it. Season to taste with salt and pepper the dish.
Drain your al dente pasta and put it in a large bowl. Now pour the sauce/zucchini mixture on the pasta and mix it. Now add your herbs and voila! A summer dish that your family will love!
Bon Appetit!