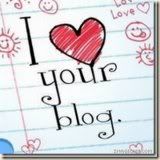 I received an award from my very good friend Barbie from
Iheart2girls
. I will have to teach her how to link someone with only their names and not the whole web address. (you'll be getting an email from me soon Bar-B!
) She thinks I'm a decoratin' fool with my projects I guess. Hubby might think I'm just the latter but he's no fool in saying that to me! Ha! Anyway, we've know each other since the birth of my son and of her daughter. She now has another baby girl. You should check out her blog and especially the water dance her little girl does. Ok, on to some serious business.
Here are the rules about this award.
1. The winner can put the logo on his/her blog.
2. Link the person you received your award from.
3. Nominate up to 6 other blogs.
4. Put links of those blogs on yours.
5. Leave a message on the blogs of the people you've nominated.
Now who to nominate??? I have so many blogs that I read that 6 won't do but alas, I must follow the rules! And the nominees for great blogs are...
1.
A Passion for Scrapbooking, Decorating and Shopping
nominated for great pictures of her new home. I love how organized her pantry looks and how she uses vinyl words to decorate her home. Yes, I stalk organized pantries and closets. There!
2.
The Brenda Blog
nominated for hosting the best Where Bloggers Create party!
3.
Deatons in Hong Kong
nominated for having the courage to move from the USA to China with her 2 SMALL children! I've known her about the same time as I know Barbie. Our babies were born in 2005.
4.
This Young House
nominated for helping others with design ideas and suggestions. Also great DIY projects like making a head board....now where's my staple gun???
5.
Picky Palate
nominated for great and tasty recipes!
6.
Make and Takes
nominated for showing us how to make Pop Up Pancakes. Kids love them!
I am off to contact my nominees and hope I won't get a restraining order from A Passion for Scrapbooking, Decorating and Shopping! Wish me luck! If you do not hear from me, please add some funds into my paypal acount for bail money.
Merci en avance!

A bientot!