Ever wonder where I hide from my family..uh I mean create my posts? No, it's not in some beautifully decorated office where everything is pristine and oh so pretty. It's in my guest bedroom. Where my FIL stays and where my parents will once they come over for a visit. So without further ado, I give you.....My Guest Room, where the magic happens!

This is my desk and it stays pretty much neat. I like an organized workspace so nothing stays on my desk that doesn't belong. I bought something for those darn wires but I needed two of them and only bought one. sigh.
The boxes above hold my scissors, mini staple and some ink pads. Those other long boxes? Envelops, mailing labels and some pretty paper.
What I am reading lately? Lets see...Real Simple, Better Homes & Gardens, Domino and some Everyday Rachel. Those boxes all came from HomeGoods. Love that place! Two of my friends who read my blog (Salut L and E!) told me about this place. Hubby would be cursing if he knew who lead me to drop some of my money. Hihihi Those teal blue boxes hold my adhesive spray and some photo paper. They came from Micheal's.
Here's my personalized stamp. Soo pretty! Had to get it to make my letters extra special.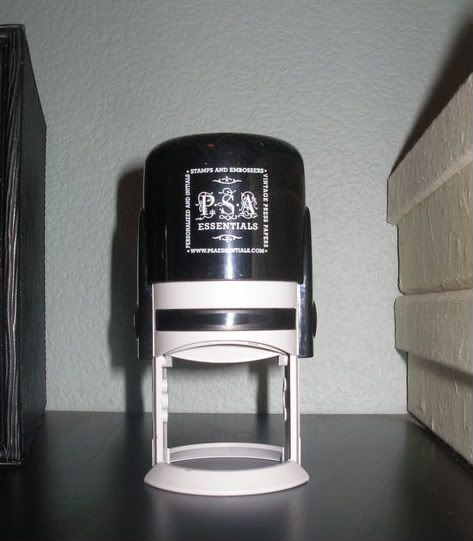 Now some of you know I like to clean and stay organized. Are you wondering if my drawers are a mess? Lets go and find out!

Nope, no mess really. I do have too many small books inside like my address book, agenda and such.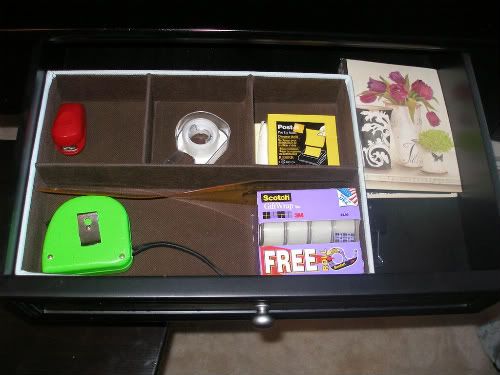 Here are two prints that I got from
YumiYumi
from Etsy. Love the colors!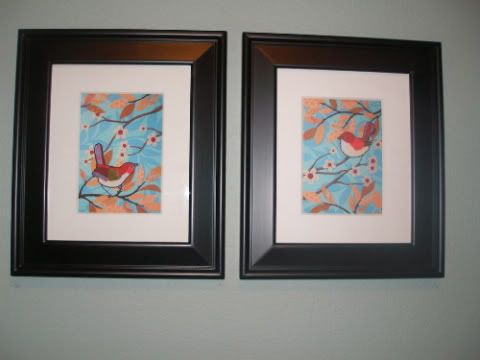 This is my favorite view when I am blogging. Sorry for being a bit dark. It's almost 8pm when I took it. Right now I don't have any flowers in my iron planters but once the weather will start to cool off, I will soon see some pretty red and yellow mums blooming. Birds love to stop for a drink or a bath in my water fountain. I even saw 2 rabbits this year munching away at my Salvia (some survived).
That's pretty much it! It's not fancy but it's comfy and if I want to, I can take a nap on the bed in here. Shhhh! I think I hear voices coming from outside the door??? Shoot!!! It's them!! Gotta go!

A bientot!