Last night I couldn't sleep so I search Craigslist in the furniture section. I am looking for a full headboard for the guest bedroom since my other option would be to make one.

As I was looking down at the ads, I saw a chair for sale. Really cute and cheap! I was sceptical but the only problem is that the owner forgot to paint on portion of the legs. No biggie if it's the only big problem. I hop in my car this morning, shopped at the Food Co-op and stopped also to say hi to Hubby at work. He was in a meeting though so couldn't talk long. Oops! Heh heh.

So I went to look at that chair and it's great! Nothing broken, nothing unraveled, just that one side where paint wasn't applied to. Just another project to keep me busy this weekend. Hubby was asking last night why we needed a chair. I told him we could always use one since I like to have guests over and love to throw small parties. Now I need to choose where it should go. Next to my hall closet? For my bedroom? Or family room? Or my walk-in closet? See Hubby, so many choices! Look at this chair and tell me if it's not worth the $20 that I spent on.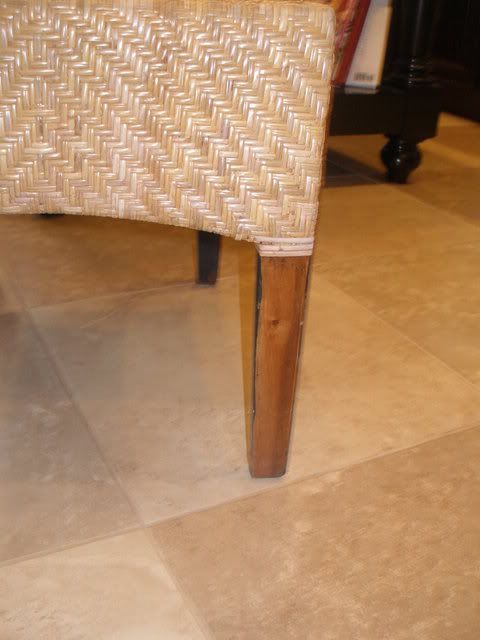 Now the owner's house is darling! It's an older home but it was in a cute neighborhood (Land Park) and it was pretty. The original wood door with glass inserts, cove ceilings, curved walk through, small built-in bookcases, casings around the windows....just wonderful! I also loved how simple it her taste in furniture was. Modern yet a bit of a beach cottage look. She said it was only 1100 sqft but I told her that once my kids decide to leave me *cue the hysterical crying mom*, I would want to live in a small home, in a tree lined street where I can walk to a local restaurant. Some people dream about big homes and now that I lived in a "bigger" home, I dream about a smaller place. Crazy, non? Anyway, just had to share this last bit of information with you all. I know some people do like older homes versus new. I wished I took my camera to take a pic of her home! Anyway, that was my day! Stay tuned for the finished product!
A bientot!