This week has been weird. The weather was HOT and I can't wait for Fall to arrive in Nor Cal. I was getting tired of grilled shrimp, steaks, homemade burgers and pasta...lots of pasta with our tomatoes for dinner! I wanted something comforting, something warm. I got this recipe from a mommy's board a few years ago and it's sooo good! My daughter who decided a few months ago she doesn't like onions anymore eats this stuff up and it has lots of onions! Yeah, it's that good. I tweaked it a bit to fit my family needs and you can too. I know some recipes add bacon to it and I may try that next time. For now, my version of Smothered Chicken. Doesn't that sound like you're going to gain some extra padding on your behind? Just walk it off on your way to Starbucks for a Frapaccino.

The ingredients. No, no photo of the whole gang together. This was a last "ooh let me take some pictures for my blog" idea . When I cook, I get lost in it. Don't laugh! Ok, done laughing? Let's start cooking!

4 pcs of Boneless, skinless chicken breast
1 tsp Onion powder
1 tsp Garlic powder
1 tsp Paprika (I use mild)
3/4 tsp Salt
1/2 tps Freshly ground pepper (or more if you like)
1/2 cup All purpose flour
3 Tbsp Unsalted butter (give or take 1 tbsp)
2 Tbsp Olive oil (give or take 1 tbsp)
1 Medium Onion, sliced 1/4" thick
1 1/2 cup of Hot chicken stock

Now start by pouring some of that Olive Oil and that pat of butter in a large frying pan or skillet, on medium heat.
Slice those onions up. If you like onions, add more since they will shrink and be all soft and yummy. Hmmm yummy... Ok, ok!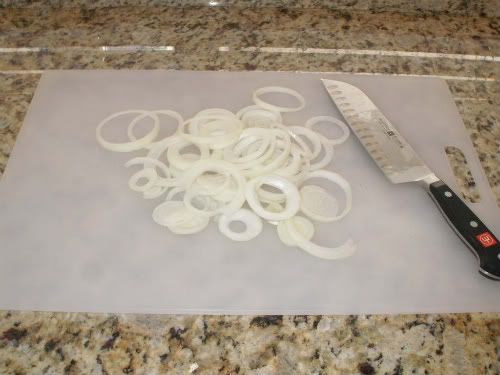 Now as a good cook, you need to learn how to improvise. See, I forgot that I used my last package of thin, chicken cutlets for my Chicken Parmesan of last week. What's a woman to do? Just get some chicken tenders or tenderloins in your freezer! Clean those up and cut out any part that's not edible.
Mix the salt, pepper, onion, garlic and paprika together. Put it in a shallow dish.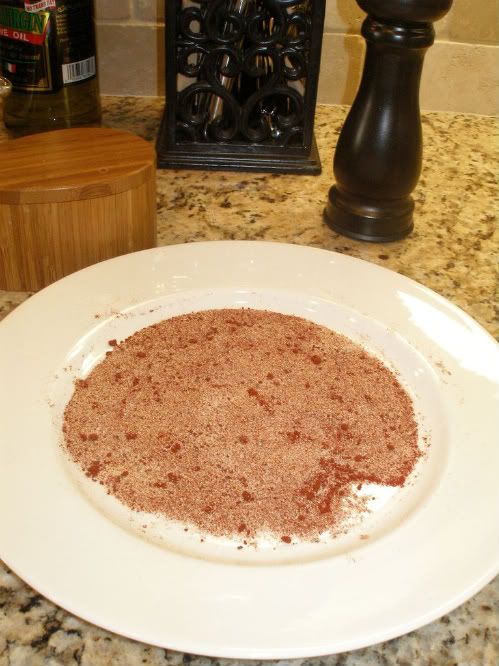 On a different dish, put the flour in. Yes, that's more than 1/2 cup. I told you I get lost in cooking sometimes.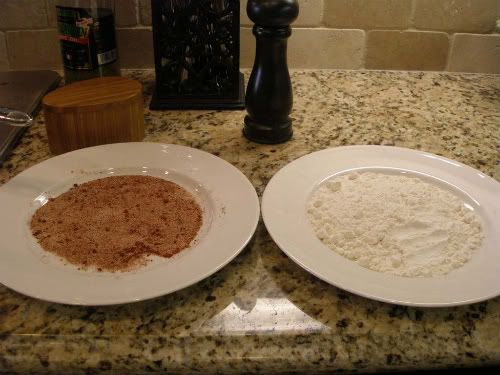 Now dredge your chicken in the spices then in the flour. Shake off excess flour.
Brown the chicken in the pan. You don't cook the chicken. Just brown it so that you'll have a nice color to it. I'll cook later on. I promise.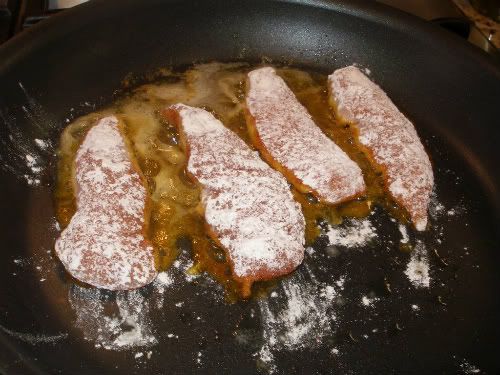 When the chicken is browned, transfer them to a plate. Now see that? That's good stuff people! Don't you dare get a paper towel and wipe that off! I'll smack you with a wooden spoon! I'm Portuguese and we're not afraid to use wooden spoons to teach young cooks! I need to get a "Don't mess with the cook" apron. Hmm, ok lets resume cooking!
Now if it looks a bit "dry", add some more butter. hehehe
Add your onions to the pan and saute them until they are soft and brown. Weeeee!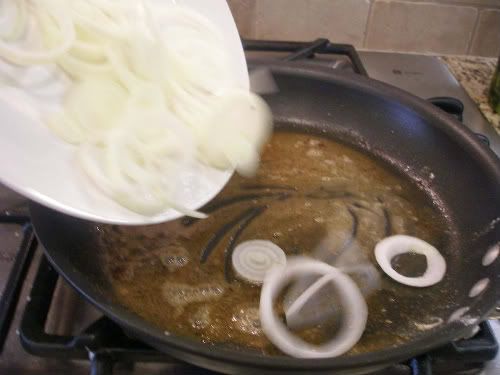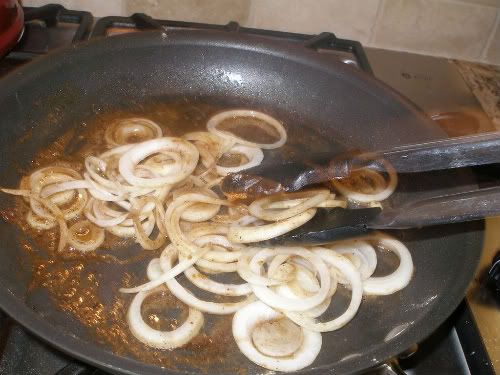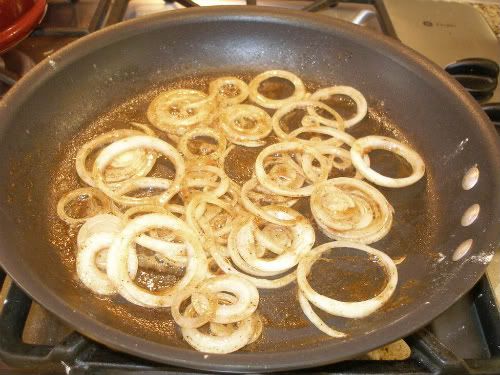 Once that's done, put your chicken in and pour some of that hot chicken stock. This is what I like to use. I used to use Swanson (man, that sounds llike bad grammar!) but this one tastes much better. Even better, use your own homemade stock!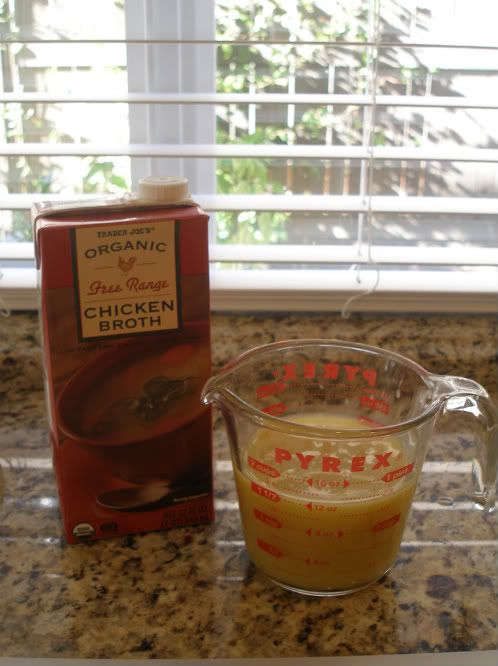 Now let it roll to a boil point.

Once it's boiling, lower the temperature to med-low and simmer it for about 25 minutes. Cover the pan.

I don't have a special cover for my pan. What do I use? Well I'm sure you probably got these when you got married or moved in to your first place. A wok cover! Brilliant!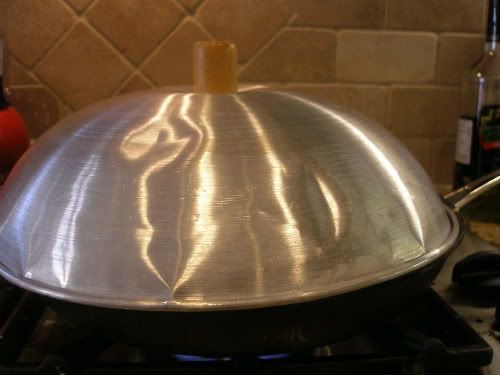 The liquid will thicken up thanks to the flour. It'll look like gravy in the end. Once the chicken is cooked, get it out, serve it with rice (hubby is Japanese so it's a staple in my maison) or mashed potatoes. Be sure to drizzle your potatoes with that gravy. Hmmm...gravy....yummy!

Here's how I plated mine. White rice with some steamed, homegrown zucchini. If I had remembered to turn on the oven, I would of roasted it.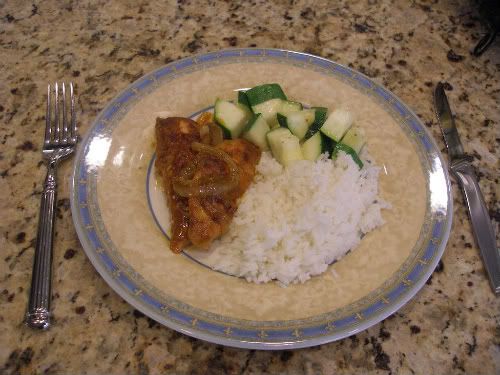 Lets take a gander at my chicken. Ohhhhhhh!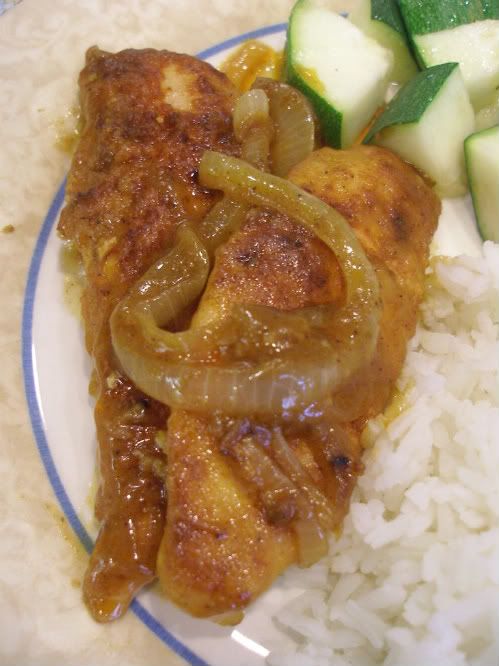 When we ate it, it was so moist and tender! My kids asked for second helpings. Yes, it's that good.