Today was going to be a busy day but I didn't know just how busy until an hour after I woke up. That will be for another post though. Last night I wanted to have chicken for Thursdays' night dinner. A roasted chicken. Correction. I crockpot "roasted chicken". I have made this recipe countless of times. The chicken is savory and always moist. My father-in-law asked me the last time he was here how do I get my chicken so moist and that doesn't fall apart in the crockpot? Experience baby.
This is perfect for working parents. Come home to a delicious homemade meal. You just have to make sides and voila! Dinner is served!

One whole chicken
One small onion, quartered
Two big peeled carrots

Rub:
4 tsp Salt
2 tsp Paprika
1 tsp Onion powder
1 tsp Thyme
1 tsp White pepper
1/2 tsp Garlic powder
1/2 tsp Black pepper

I usually make a big batch of this rub and put it in an airtight container. My own chicken seasoning instead of buying it. Simple, non?

Combine all dry ingredients in a small bowl. Set aside.

Clean chicken and pat dry. Remember to look inside the cavity for heart and gizzards. My mom would cook these when making chicken soup. Moi? I cook it for my dog. Excellent source of protein and she loves it!

Now season the chicken inside and out with these spices. Makes sure you rub it inside the skin so that the meat will be flavored too. Add the quartered onions in.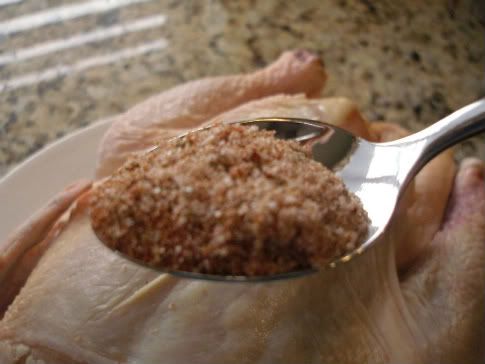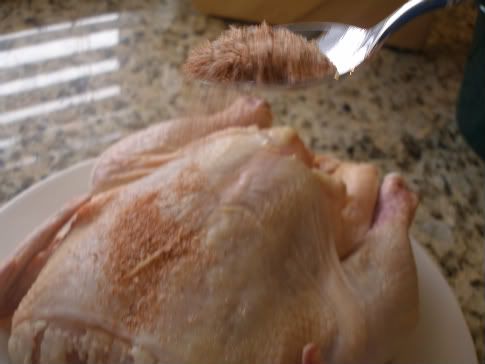 Put the carrots in the crockpot. This will serve as a base for the chick. You can use small potatoes too. Just be warned that they will get soft and mushy since there will be alot of liquid in the end. A lot.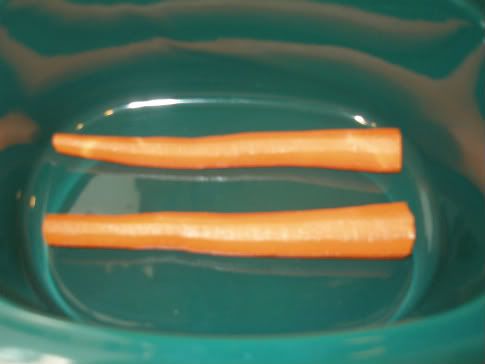 Now place la poulette on top of the carrots. Cover the crockpot.
Set on high for about an hour then low for 5-6 hours. If you are working full time, I would just set it on low right away and cook it for 7-8 hours. I usually check my chicken one hour before cooking time to see if it's cooked or not. I hate taking a chicken out and everything breaks down because it's so tender. Great for roasts but not whole chickens.
In case my friends wondering about my crockpot as to why it's flowery and hunter green in color
(not really my style), a co worker of mine bought a new one 8 years ago and gave this one to me. It needed a new insert since it was cracked. Cost me $35 with shipping to replace it. I never had one before since my mother cooked with a pressure cooker (which I also have. Thanks Mom!) I haven't updated it since I don't cook with it often. When it'll break, I'll just get another one.
I usually serve these with potatoes or rice and steamed broccoli. I might try asparagus but hubby is not crazy for them.
Once my chicken is cooked, I will post pictures of it. It's still cooking right now. Real time cooking people. Check back to see how it looks!
Edited to add: Here's the finished product!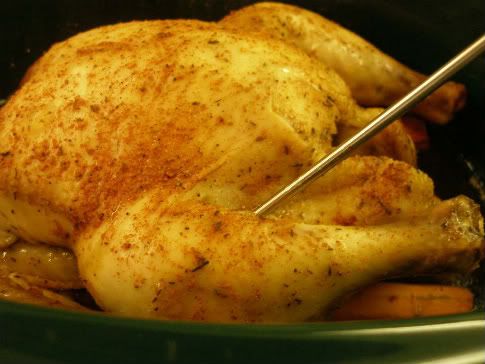 See how much liquid that chicken gave out? Well it's mostly fat.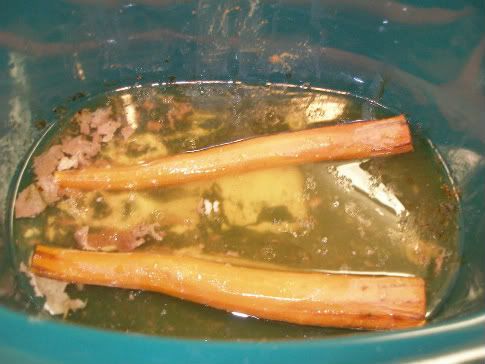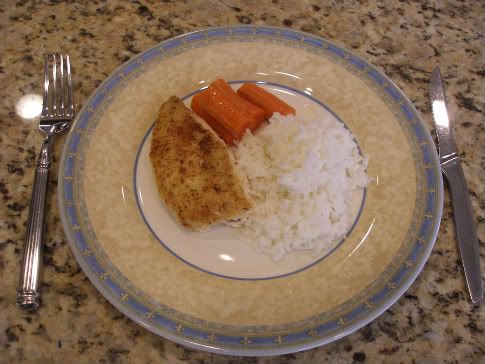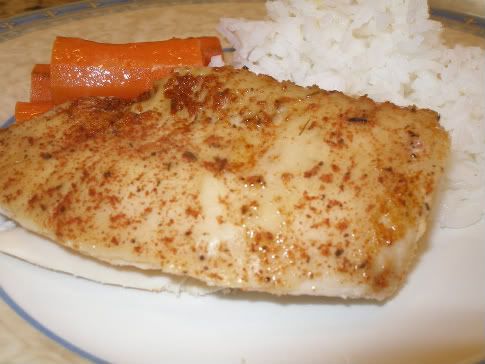 Bon Appetit!