As I was heading out the door, my daughter wanted to take a picture of me. My son said I looked pretty. Awww learning how to suck up to mommy after telling her she wasn't a woman. I guess men learn at a young age
non
? Here I am reading for some fun time with
mes amies
!
Tonight I met my friends for dinner at the
Tower Cafe
. It's located close to midtown and Land Park. The scenery is nice and the weather a bit chilly. We opted to eat inside even though they do have outdoor heaters. Nah, we didn't want to take any chances. Here's some photos of the places.
Behind that greenery wall if the terrace where there's many water fountains. Very nice.
Now who are these friends of mine? Here's a photo of them. All smiles just for
moi!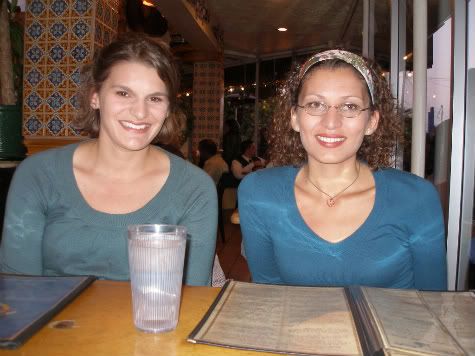 My friend S chose the Sante Fe Salmon while my friend L chose the Tower Linguini. I tasted the latter and it was very delicious. I had the Budin Azteca. I wanted to try something that I don't make at home. Do you guys also do that? Order something that you have never done at home? I never had Mexican lasagna although I do have a recipe and I've also never had Chili Rellenos.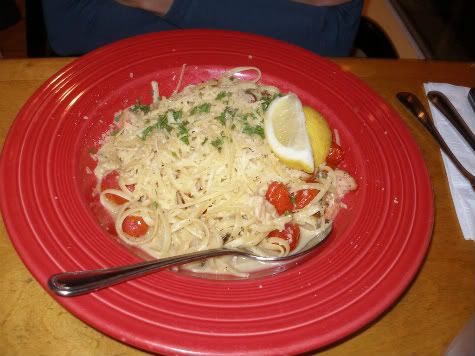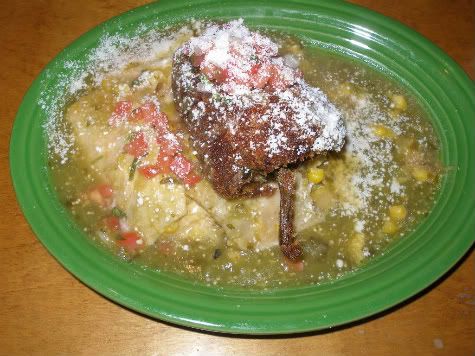 My dish was excellent! Loved the sauce and the chili was delicious. A bit spicy toward the tip of the chili were the seeds and veins were but delicious none the less. Now I have to try my hand in that! I do stuffed peppers but hubby won't eat the pepper itself and neither does my daughter lately. A connection you think? I also think so.
For dessert L opted to bring 2 desserts home ( Pear Frangipane Tart & a lemon or lime tart)while my friend S chose a cheesecake to go but a Pear, Apple and Cherry Crisp. I opted for a Pear Tarte Tatin. I also had a Chai Latte. Haven't had Chai for years. It was so good. I will gladly go there again.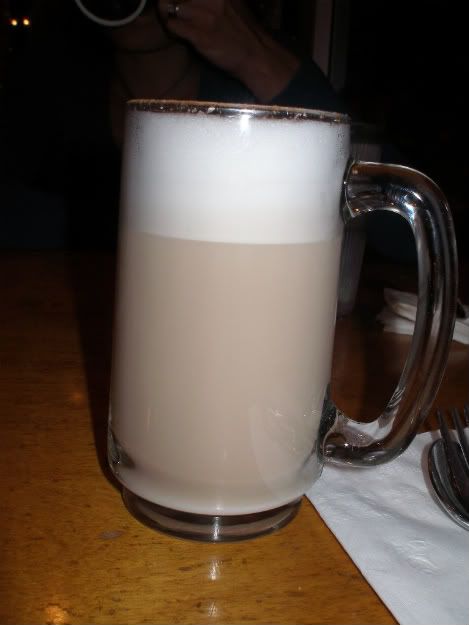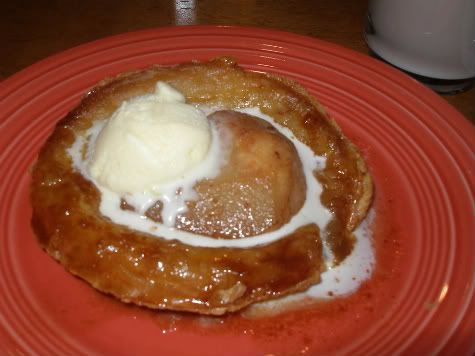 Oh and my friend L asked if they did Creme Brulee to go and the waitress said they would scoop it out and put inside a box. Ok, am I the only one that think that is so weird and so wrong? For the love of Egg Custard! It's not a pastry puff but a custard sloshing around! sigh. My friend L said we should ask every restaurant from now on about the Creme Brulee to go and I'll blog about it. Soon every restaurant in Sacramento will know that a strange petite woman asks for Creme Brulee to go. Soon my face will be plastered all over the restaurants and warning signs about me. I think I need to do o an expose as to why restaurants that do Creme Brulee to go do not make them in aluminum packets instead like at bakeries? Then the customer will have an intact Creme Brulee and all is well in the dessert world. I wonder if my friends are reading this and laughing about it. Anyway, that is our mission now. Tonight, a Breme Brulee was spared in being desecrated by being scooped. The horror!
P.S. Here's a photo taken from Mirabelle bakery. See?! Creme Brulee in container to go. Brilliant!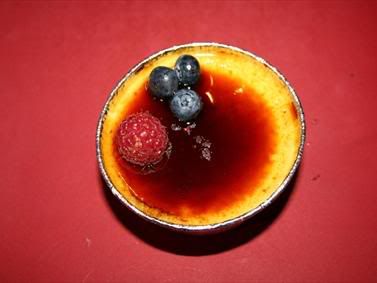 P.P.S. I know I resized my dessert photo but it's still showing big for now. sigh Maybe tomorrow it'll look normal.
A bientot!