Here's a dish that's great for working moms that want a homemade meal that is healthy and comforting. With Fall at your door, a nice warm meal sounds good, right? Here's my recipe for a roast with root vegetables. I think I got this recipe a few years ago from Food Network.
Slow cooker beef with vegetables
1 Onion, chopped
4 Small red potatoes, quartered
2 Carrots, peeled and chopped
1 Turnip, peeled and chopped
1 Rutabaga, peeled and chopped
1 (3lbs) Chuck roast
3 Tbsp All purpose flour
1 (15oz) Can of tomato sauce
2/3 cup Brown sugar
2 tsp Chili powder
1 tsp Ground cumin
1 tsp Mustard powder
1 tsp Garlic powder
Salt & pepper
Arrange onions, potatoes, carrots, turnip and rutabaga in bottom of the slow cooker. Season beef with salt and pepper. Rub flour all over the beef. (this is what makes the gravy thick) Place roast on top of vegetables.


Whisk together tomato sauce, brown sugar, chili powder, mustard powder, cumin, and garlic powder. Pour the mixture all over the roast. Cover and cook on low for 12 hours or on high for 8 hours.

Let me tell you. Your house will smell wonderful. Be careful with the cumin. That's a strong spice. You get a complete meal in that slow cooker. Just add some warm buttered rolls and you're all set to make your belly all happy.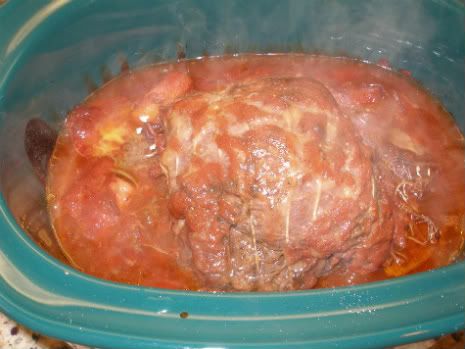 I know I had more pictures of my roast but I can't find them! I may have accidently deleted some from my memory card thinking it was from an old recipe post. Shoot!
Bon Appetit!