This past Saturday the weather was awful. Cold and chilly. Exactly like last week. I wanted something roasting in my oven and decided on Cornish Hens for dinner. Organic ones to boot! Unfortunately, they were still frozen by late afternoon. Grr! This morning I wake up to a beautiful day (what is this???? Deja vue or what??!!) and decided tonight we would have them for dinner.

This is not exactly a "recipe" since this is swing it cooking. Just whatever pops into my head or what I have in the fridge. Ohhh the smells coming from my oven!!! The rosemary was making my house smell wonderful! The hens turned out beautiful and so moist and succulent! Some people are afraid of roasting chickens or game hens. Don't! It's very easy and pretty quick especially the latter ones. Put on your apron and lets start cooking!

Ingredients

4 Cornish Hens (not sure what size they were. Enough for a person to eat I guess)
1 lb Baby red potatoes, halved
4 Whole shallots, peeled
4 Rosemary sprigs
3 tbsp Olive oil
Salt & Pepper

Preheat the oven to 425.

Clean and pat the hens dry. Season them with salt and pepper inside and out. Now tie the legs with kitchen twine. Get good ones that won't break apart when wet. I would hate for that to happen.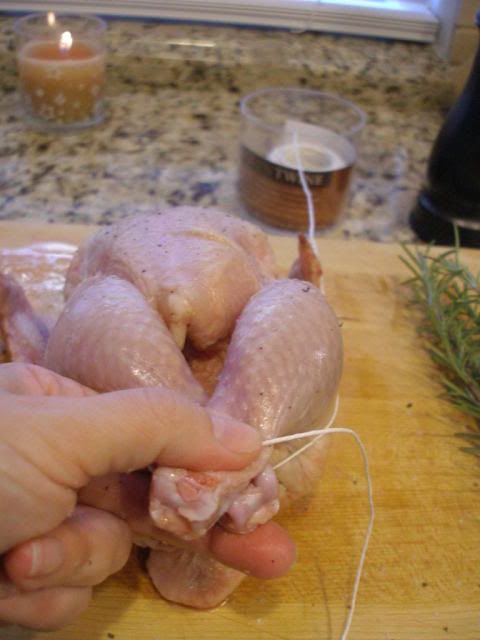 Now get a big roasting pan or big baking dish and pour about 2 tbsp of olive oil.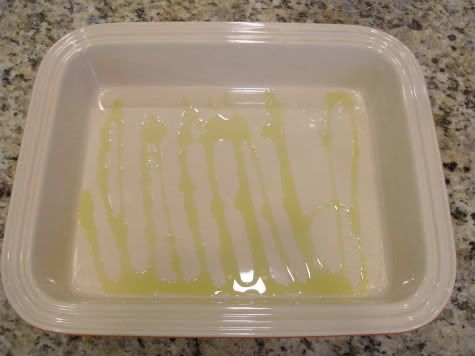 Now add the halved potatoes.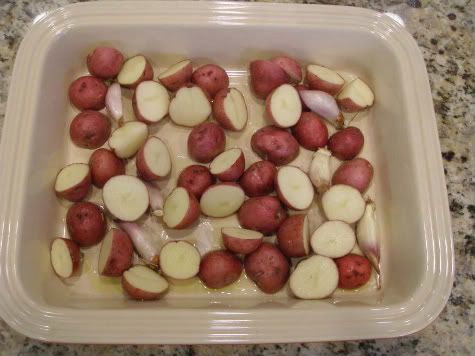 Place the hens on top of the potatoes. Place 3 rosemary sprigs in between the hens. Take the last sprig and take apart the leaves. Sprinkle on the hens. Drizzle one tbsp of olive oil over them.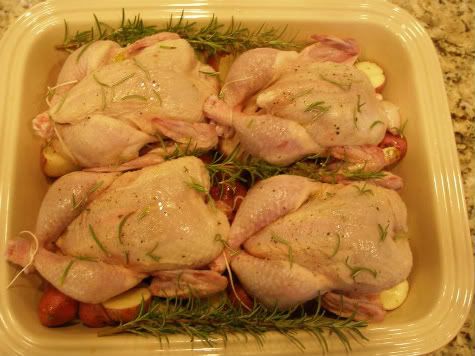 The best thing about living in Nor Cal is having fresh rosemary all year long!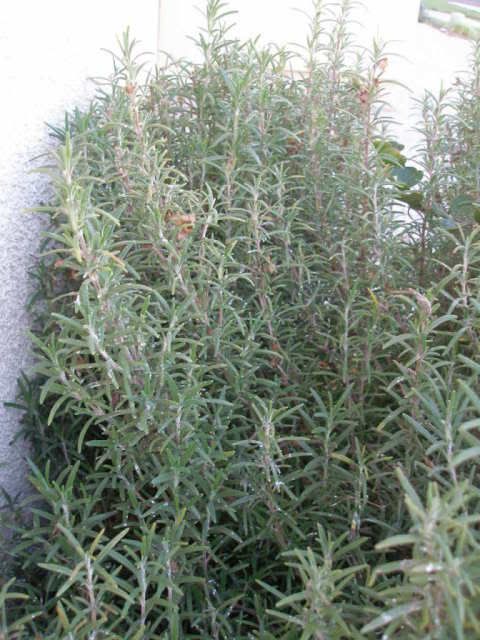 Cook in the oven for about 45 minutes- 1 hour, while basting them with their own juices. Check on them at 45 minutes into cooking and check the internal temperature. Once cooked, take them out and let them rest.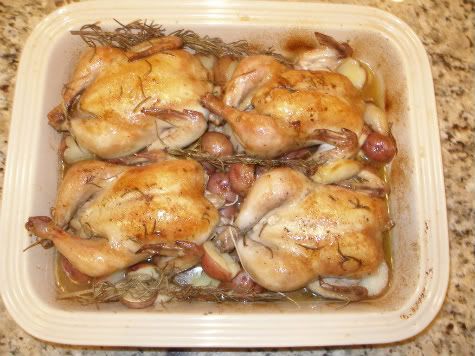 Don't they look beautiful? The most important part though is that they were tasty too.
I took apart one for my children since I can imagine them playing with their small hen. Yeah, not going to happen people.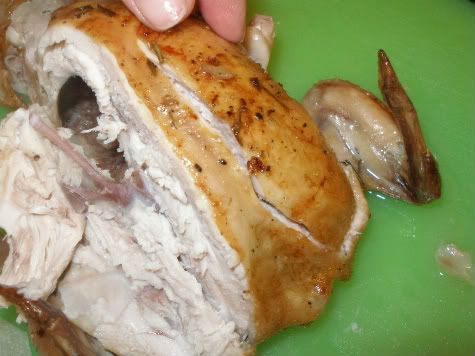 See how nice it looks inside? Not dry and so so juicy!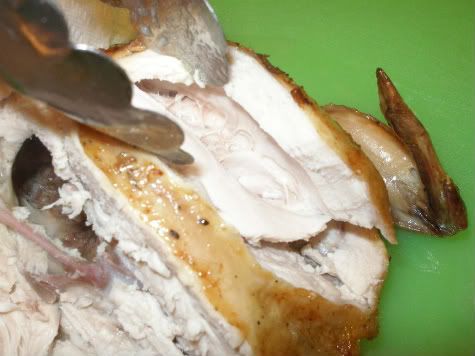 My hubby's plate. lol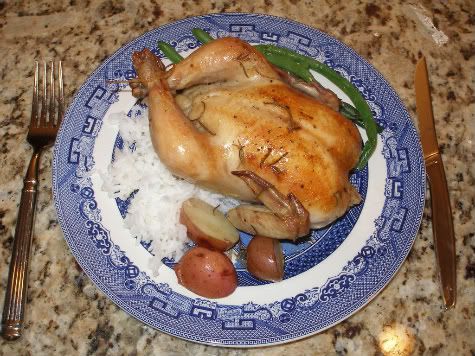 This would be a great beginning if you are unsure in roasting a whole chicken. Try Cornish Hens to test the waters and once you feel comfortable, go for chicken, then turkey!

Bon Appetit!