Remember yesterday's post about something baking in the oven? Well it's this Cheese Danish kind of dessert. I wasn't sure if it was worthy of a blog but it's quick and simple so why not?! I've seen it in some blogs so why not share it with you too? My daughter wanted something sweet so I decided to make this last night.

Ingredients

2 (8oz) Cream cheese packages, softened
3/4 cup Sugar
2 Crescent rolls packages
2 tsp Vanilla Extract


Topping
1/4 cup Sugar
2 tbsp Cinnamon

Preheat oven to 350.

Butter or spray with Pam an 13 x 9 Pyrex backing dish. Unroll one package of crescent rolls. Pinch the seals together so that all is one continuous lenght. Place it in the baking dish.

Cream the sugar and cream cheese together. Add vanilla and mix well. Set aside.

Open the second package of crescent roll and pinch the seals again. Lay it over the cream cheese.

Now mix 1/4 cup of sugar with 2 tbsp of Cinnamon. Scattered the sugar mix over the top.

Place in oven and bake for 20-25 minutes until it's golden brown.

Let it cool before cutting it into small rectangles.

Here's what I had last night. Shhh! The lights were off since I didn't want hubby to see me sneak one before bedtime. Yes, that is coffee but it's decaf so it's ok. And no I don't go to bed before 9pm. I wish! This is what separates the single 30 something woman from a 30 something mom. How sad!
Take a bite. Oops! I left some cream cheese on the spoon!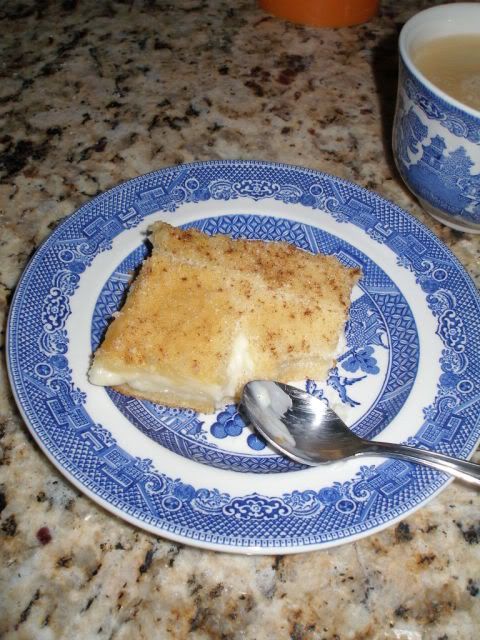 There! Much better!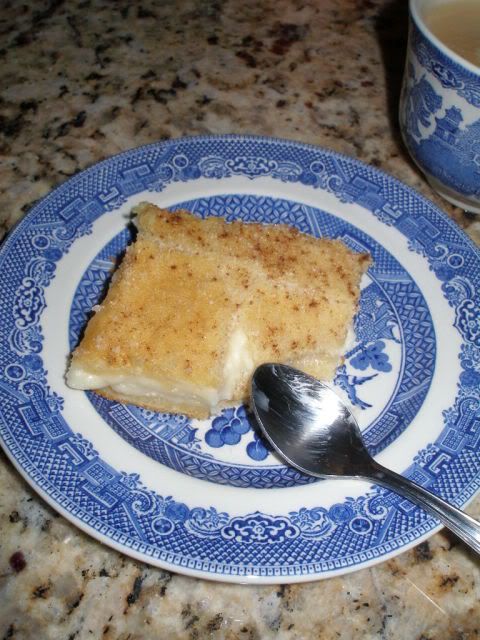 Bon Appetit!