There is no reason or point for this post. Just a want to post photos of my children during their first Christmas. It's hard to see them as babies since I can remember taking these photos so vividly. For those of you that have babies right now, hold them close to you. Soon they'll become toddlers than kids. I don't know how I'll feel once they're teenagers. Sniff.

A supermarket here in Nor Cal (Raleys) had a Santa quarter in their store. What makes me laugh was that it was made from my favorite drink, Coke! lol Here she is. She was almost 6 months old. Having her was like having a little doll to dress up. Girls are fun to dress up!

Christmas 2003 morning. Poor thing had no idea what was going on.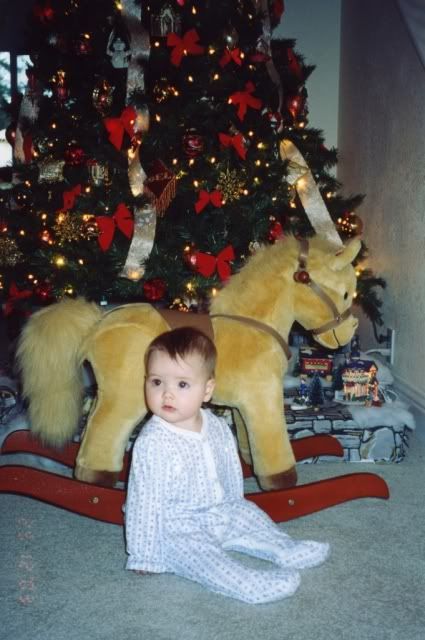 When she would smile, people would comment how she reminded them of the Gerber baby. The ladies at her daycare made an ornament with her photo and the Gerber baby . I still have that ornament. This is the photo they took to make it.
My son's first Santa pic. We was almost 2 months old. He was my little angel. Always smilling and giggling. Still does to this day.
How I loved his hair! It would stick out no matter what I did. It did for many months. The boy was born with a full head of hair! I remember seeing babies with so much hair and thought how cool would that be if I had one like that. A few years later, ta da! lol Better watch what you wish for huh? I took so many funny photos of him. One I will not post online but he has a bow "somewhere" and he had this half smile on his face. Hehehe I guess he knew he was going to be a gigolo. lol That's what my dad tells me anyway. He'll have the ladies swoon over him he says. Men!
And now here they are from last Christmas. Where did the time go???
Sniff. A Bientot!