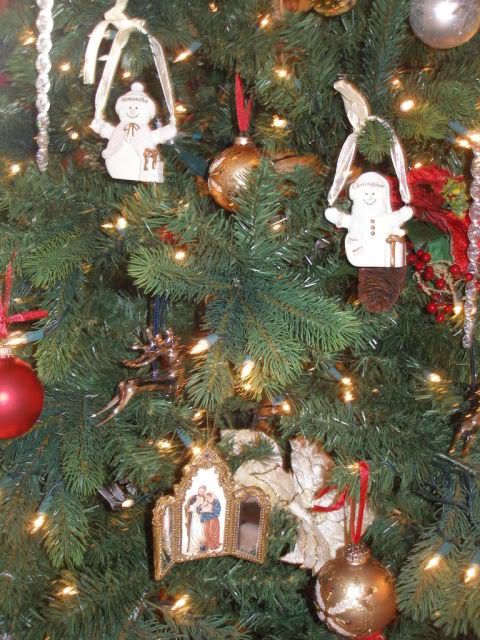 My first ornament was a pink snowgirl. I was pregnant with my daughter and wanted to have an ornament just for her. I got it from Lenox and it's so precious. It has my daughter's name on it. It's not tucked away with my other Christmas ornaments when the holidays are over. It stays in my armoire for safe keeping. My son was born a few months before Christmas and I knew he needed to have his own. I got him a blue snowboy with his name on it also.
My other favorite ornament is this small religious scene. I got it at Jesuit High School's Christmas Fair years ago. The room was held at a local hotel or golf course. It was about 5 years ago so my memory is not that great. The room was gorgeous! Full, decorated Christmas trees galore! Beautiful items for sale and food/drinks to sample.
I saw this ornament first but though $10 was a lot for one ornament so I passed. When I was about to leave the fair, I once again stopped by to look at that ornament and purchased it. For some reason I was mesmerised by how pretty it looked. I am not a religious person but seeing a family together makes me feel good inside. It has mirrors on either side of the scene. This ornament also gets tucked away with my children's snowmen.
Thanks for letting me show you my favorite Christmas ornament. These always go one my tree last as the final touch to my tree decorating. Now go to
There is no place like home
to see what others have to show tomorrow! I'm sure you'll love to read what others have to share.
A Bientot!