Many people make a New Year Resolution list. One goal that comes up often is being more organized. In my bathrooms drawers, I have many drawer organizers. Some are plastic and others are wood. I love those organizers since it makes you put your items away in their proper place. Never have to move things around, getting a bad start to your day, etc.

Here's what my bathroom drawers look like. Yes, this is kinda embarrasing for me since now you all know what I have in my vanity drawers. lol You might see some strands of hair in these pictures. I didn't clean my drawer since I wanted to show what a real drawer looks like. No need to make it all perfect for some magazine. And yes, I do get acne sometimes. Oh the shame!
I used to have these baskets in my first home master bathroom's closet. Now I use some of them for my deep drawers. This works great for my husband since he can see what he needs. He doesn't ask me anymore if I have cough medecine, bandages or whatever he needs. Mission Accomplished!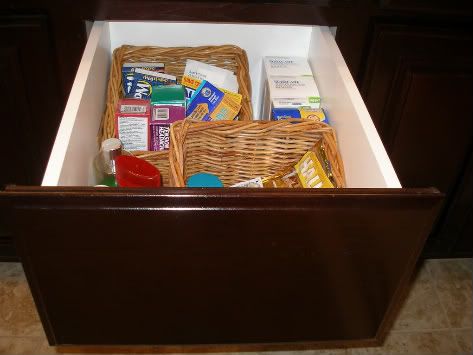 Now you don't have to get fancy ones since they can be pricey but by going to Marshalls or Homegoods, you might find these at a much lower price. Also, remember to check your drawers at least once a month and take out anything that has expired or is empty. That can really junk up your drawer and make you feel frustrated at the whole mess. Just clean it up!
A Bientot!