If you read my blog, you know I love my furry child. My dog is super hyper. Always has been, even now. She rarely eats much and I hated to see her ribs while she was standing. Ugh. The child wouldn't eat her dry food unless it has some wet food in it. So a few days later I caved and gave her some. Some brands she wouldn't eat and I can't blame her. They smelled and looked nasty! Bleurk!

A few years ago, hubby's aunt sent a Christmas present to Sandy. A can of Merrick dog food. She knows I'm an animal lover and wanted to fatten Sandy up a bit. The image on the can looked cute. A Thanksgiving Day Dinner. Then I read the ingredients. Wow! Pretty good! So I opened the can and had to make a double take. Ahh where's the dog food??? All I see is people's food! lol It smelled good too! Whaaaa???!!! Sandy loved it. After a few months, she gained 5 lbs. Now you can't see her ribs. Still slender but she looks MUCH healthier.

Merrick has many different types of meals. Now they are not cheap. They can range from $2-$3 a can. Now since I mix it with dry food, she only gets one can (she's 53lbs). Pet chain stores may not have it but you can maybe suggest them this brand. I get mine at local small pet stores. I notice they have a better variety of "good" food, treats and vitamins.

Here's want the wingalin has inside.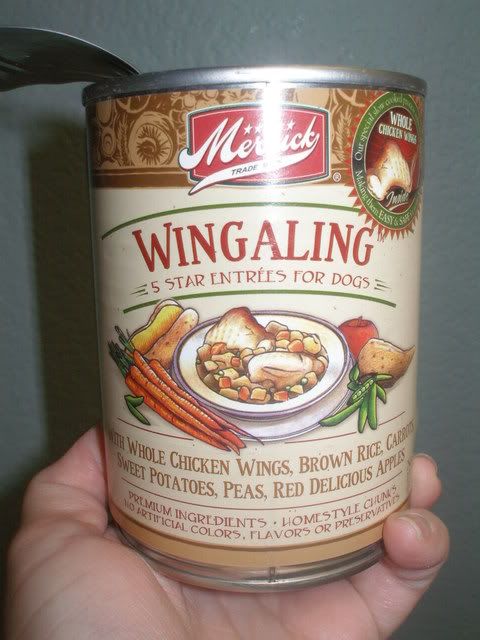 See that??!! She got a 2 whole chicken wing ! A REAL chicken wing. lol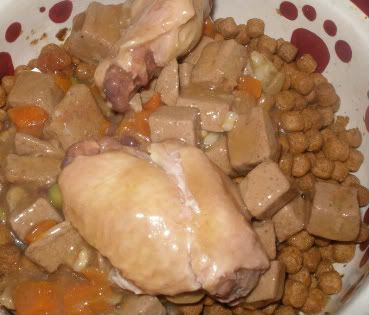 I feel good feeding her this food. It's much healthier, looks and smells good and more importantly, Sandy loves it. Yes it's probably 2 or 3 times what a regular canned dog food cost but when you account for what's inside, it's no wonder there's a price difference.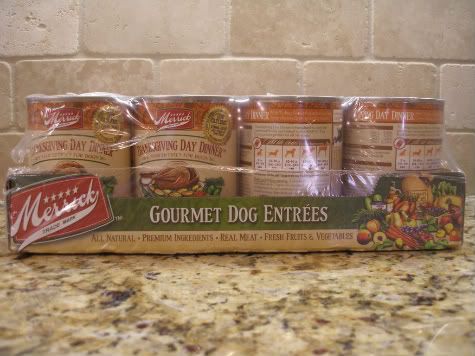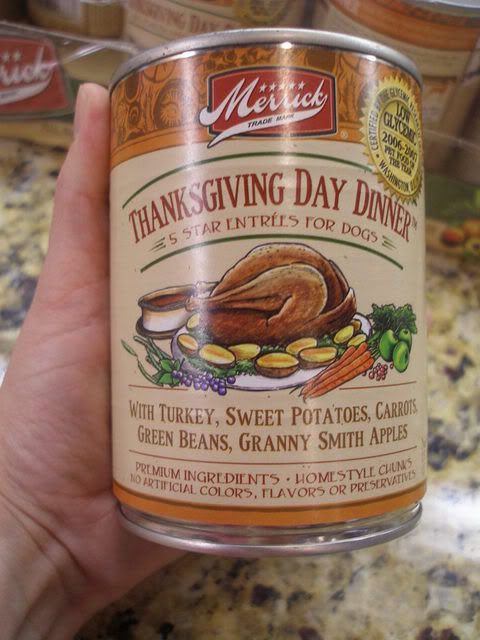 Look at the ingredients! It has healthier stuff than human food in cans! lol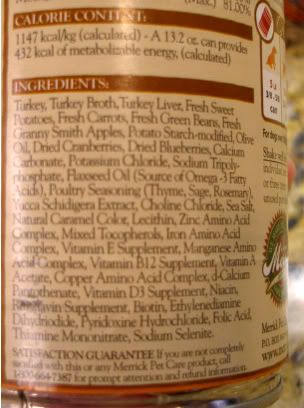 Next time you see a small pet shop, stop by and maybe get a can to try it out. Maybe make it a once in awhile treat for you family pet. He or she will thank you. Promise.

A Bientot!