With Spring arriving, many people get the itch to plant. I love gardening. Always had as a child. I would help my dad with planting tomatoes, green beans, cucumbers and lettuce. I loved seeing those plants grow vegetables right in front of my eyes. Those were good memories.

Today, I still plant gardens. Living in California actually makes my garden last much longer than in Montreal. We have about 2-3 months of summer back home. Here, warm weather can start from April until October. Not bad, huh?

Last week, the weather was warm so I decided to start on my kitchen garden. It mostly has herbs and maybe some vegetables. Mine has 2 cherry tomato plants, 2 basil, 2 cilantro, 2 parsley and an oregano plant. Those are the herbs I use more often in my cooking. The garden is next to my kitchen so whenever I need herbs, I just go out and pick some. I also have a lemon and orange tree (dwarf) for my baking or cooking. Very convenient for me.

Here's how it looks like now. My parsley and cilantro got a bit of a beating from the strong winds from Sunday. Almost burned off my basil too. Boo!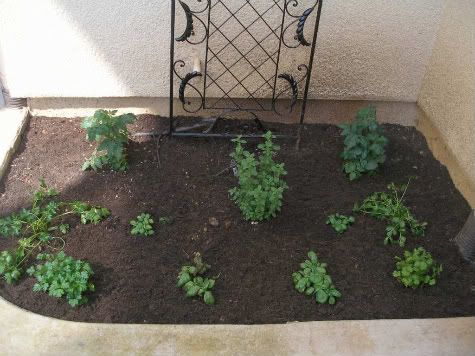 Parsley.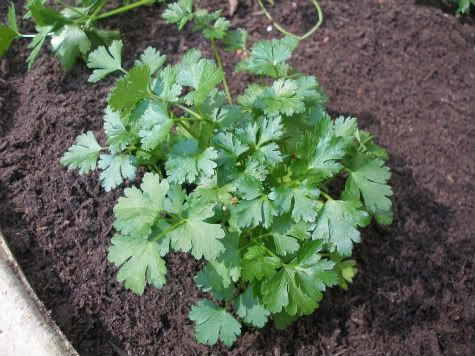 Cilantro.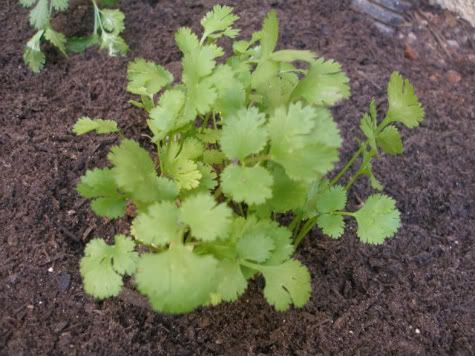 Cherry tomato plant.
Oregano.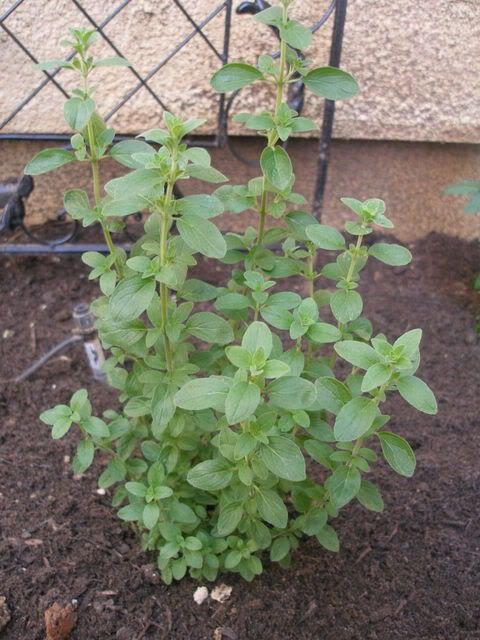 Oops forgot to take a pic of my basil. Next time.
My tip in having a great garden is to always renew your dirt. My crop from last season took out the nutrients from the dirt so it needs replenishing now. I use compost and some planting mix to my old dirt. I also have clay dirt. *shudder* It's hard to dig into it and when it's completely dry, you need a jack hammer to make a hole. lol There are clay soil amendment to improve the condition of the soil. You can find it in nurseries or any hardware store that has a gardening section.
To make your life easier when it comes to watering your plants, installing a drip system would take the worry off on over watering or forgetting to water them. Make sure you get the right system for your garden needs. Some are good for shrubs and tress while other are better for flowers and vegetables.

My kids love watching things grow and I hope later in life, they will also have great memories. It can also save you money on groceries. Last year I didn't buy tomatoes, squash and herbs during the whole summer. With this recession, planting your own food would help with your budget.
If you live in a place with no yard, you can also planting those vegetables in containers. Just find a sunny spot for them and watch them grow! I hope this year you might try your hand in making a herb/vegetable garden. Not only is it fun but very relaxing too. Have fun planting!

A Bientot!