This weekend was a busy weekend for us. On Saturday we went shopping for a new kitchen table. The store we went was having some sort of free hot dogs & drinks day so we got lucky. The kids had hotdogs and lemonade. My daughter ate 1 and a half! Maybe I AM too strict with them in regards to food. After lunch, I went to look at tables while my kids oohh and ahhh over bunk beds. My new table should arrive this Thursday. I will be giving our current table to my father in law once he comes to move to California. After almost nine years, I was ready for a new kitchen table.

On Sunday we had a birthday party to go. My daughter was excited because it was at the park. This was also my chances of getting photos of them so my camera was close to me. Here they are getting ready for the party.
Here they are at the park, waiting for the birthday girl to arrive. I was lucky to get some nice shots of them together. The party was fun for the kids.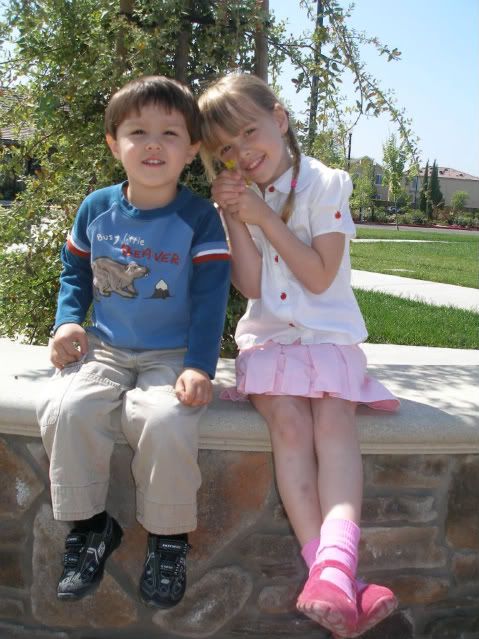 A mutual friend of mine was also invited so we were able to hang out and chat. I got a little sunburn but had a nice time. She did offer sunscreen but I didn't think we would get sunburned. Wrong!

Ok, ok. I know what you are saying "Who cares?! On to the giveaway!" Ok, so here's the winner of my giveaway.
The Caretaker! Congrats! I will contact you or you may contact me. I hope you enjoy your prizes.
A Bientot!