I love madeleines. I remember going to the bakery with my parents as a little girl and buying them. Soo warm and soft! I rarely buy them since they always seem dry. I prefer making my own since it's very easy. I make lemon madeleines or honey madeleines. Yesterday I made honey madeleines for my playdate.

Ingredients.

3/4 cup Flour
1/2 cup Sugar
3 Eggs
6 tbsp Butter
1 tbsp Honey
1 tsp Baking powder
1 tsp Vanilla extract
1 Lemon, zested

Melt butter in a saucepan on medium heat until it gets a bit brown. Set aside to cool a bit.

In a medium bowl, sift the flour and baking powder. Set aside.

In a mixer, whisk the 3 eggs on high speed for about 2 minutes. Add sugar and honey and whisk for another 5 minutes. Scrape the sides to make sure every bit of sugar and honey is in the mixture.

Reduce the speed to low and integrate the flour/baking powder mix, the vanilla extract, lemon zest and melted butter. Let it stand at room temp. for an hour. Cover the bowl with plastic wrap.

Heat oven to 350. Butter or grease madeleine sheets. Fill the molds 3/4 and bake for 11-12 minutes. Let the sheets cool on a backing rack for 5 minutes then gently remove them from the mold. let them cool for another 5-10 minutes. This will yield 2 dozen madelaines. You can sprinkle powder sugar if you wish for a pretty presentation.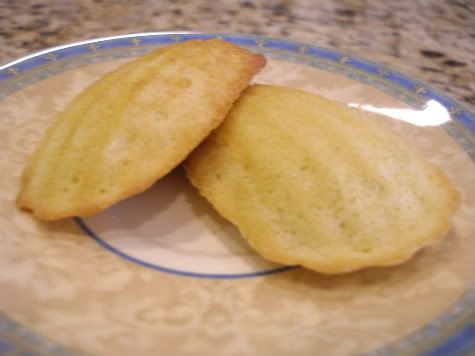 Bon Appetit!