I'm hosting a BBQ this Saturday and decided to make a cool summer dessert. As I was thinking what to make, I remembered something from an All You magazine. It was a cute dessert in a cup. It consists of vanilla pudding, strawberry jello and blueberries. Now from that magazine, the recipe calls for a homemade vanilla pudding version. I wanted to see if I used instant pudding & jello, would it taste still good? Result? Yup. Still good.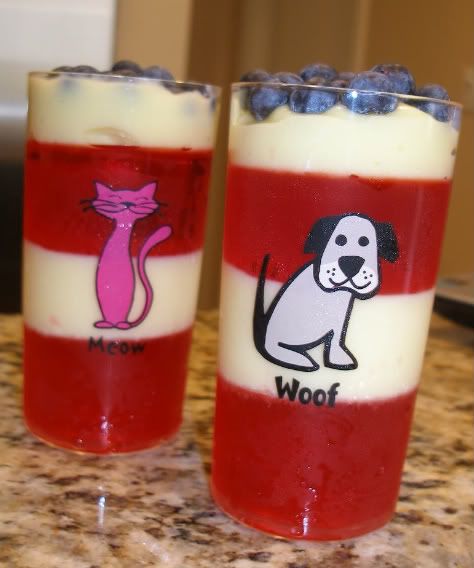 Just make your jello, pour a little in the cup, let is set in the fridge. Once firm, make the vanilla pudding. Add a layer of pudding and let it set. My trick in putting it into the cups nicely once the pudding sets (for the final layer), put it inside a pastry bag. That way you can squeeze the pudding in your cup.
After the final layer (pudding), add some fresh blueberries. Voila! A simple dessert that can be made the day before. I ate one for the purpose of making sure it taste good. Yeah. Yeah. For your convenience.

Bon Appetit!