I finally did it! I've been trying to recreate a tomato sauce that I tasted as a child. My dad and I loved it. My mom does not make Italian dishes nor tomato sauces. When I got married, I would try to recreate it off and on. My sauces were ok but NEVER like the one I tasted years ago. Well last night I cracked the code! lol Turns out that sauce was a creamy sauce and not regular tomato sauce. I can't wait to make this for my dad and see his reaction. Will he remember it too? Anyway, I finally did it and hubby loves it. Woohoo!

Papardelle in a tomato cream sauce.

1 lb Papardelle (linguine or spaghetti will work as well)
1 14.5oz Whole tomatoes, hand crushed
1 small Onions, finely chopped(tip #1)
1 1/2 tbsp Minced garlic
1 cup Tomato sauce
2 tbsp Tomato paste
1/2 cup Heavy cream (tip #2)
1+ cup Pasta water
1/2 cup Freshly grated Parmesan (tip #3)
1/2 cup Fresh basil leaves, chopped (tip #4)
1 sprig Fresh oregano, chopped (tip #5)
Olive oil
Kosher salt & pepper

Get a stockpot and boil water for the pasta. Season the water with some salt. Cook pasta.

Meanwhile, get a large saucepan over medium heat and pour some olive oil. Huh, I made a face. Kinda scary, non?
Now add the finely chopped. See smaller bits is better. Add garlic and cook for about 2-3 minutes. Do not burn the garlic or it'll get bitter.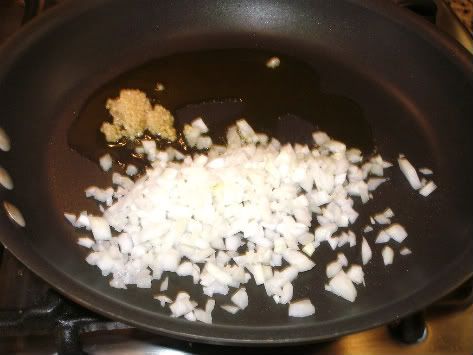 Now add the fresh herbs and tomatoes. Let it simmer for about 10-15 minutes. If you use tomatoes from a can, you need to cook the "metal taste" out. I discovered this trick for using canned tomatoes.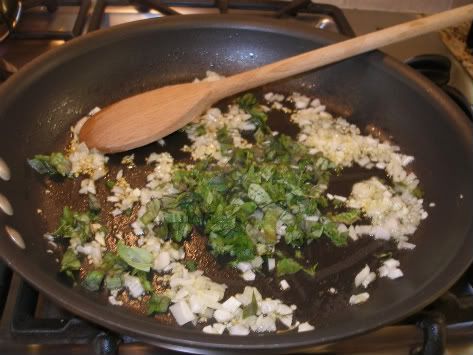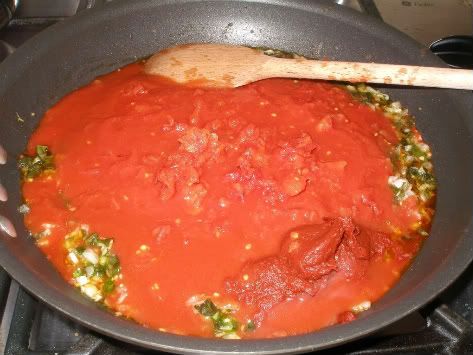 The sauce should be reduced at that point. Now add the cream and simmer for about 5 minutes.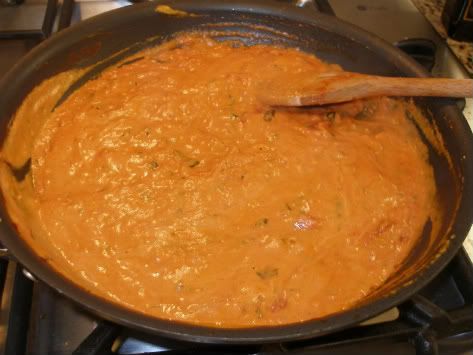 Now add the pasta and pasta water. Coat the pasta with the sauce. The sauce will be thick. If it too thick, add a bit more pasta water. Now season with salt and pepper per taste. Add the Parmesan on top, some fresh basil and serve.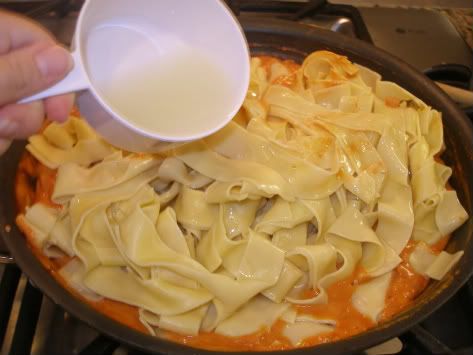 Your family will love it. Mine did. Now it's important to note that you should use good parmesan cheese. Please do not use the Kaft cheese from a container. I do have one when the kids want some of their spaghetti and I don't have a fresh wedge of parmesan cheese in hand. Real cheese makes a HUGE difference. Believe me.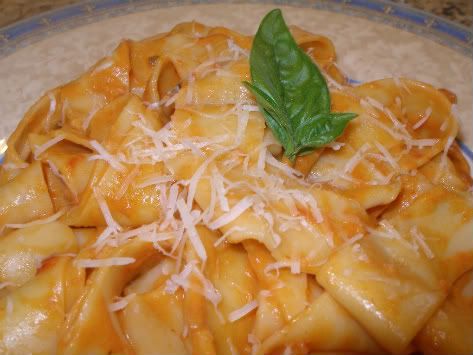 Bon Appetit!