A few weeks ago I happen to find this recipe on one of my food blogs,
Lauren's kitchen
. Now I have never made enchiladas in my life but this recipe seemed easy for a first timer. It is not a traditional way of making them BUT it is quick and delicious. Half of my enchiladas gets sauce while the rest does not. My kids think it's too spicy, even the mild sauce. I think this is a great meal for a picky child.

Ingredients.

10-15 Flour tortillas (I like Guerrero for its taste. The Mission or Tia Rosa is too thick for me)
Jar of Salsa
Shredded cheddar cheese
1 packet of Ranch dressing
1 (8oz) of Sour cream
5-6 cooked chicken breast, shredded
Enchiladas sauce (optional)

Preheat oven to 375.

In a small bowl, add half of the sour cream and half of the ranch dressing. Mix well. Set aside.

In a medium bowl, add the rest of the sour cream and ranch dressing. Mix well. Add the shredded chicken and coat the chicken well.

Take about a tbsp of the sour cream sauce on a tortilla. Spread the sauce evenly. Now add some chicken mixture onto the tortilla. Add some salsa and cheese on top. Roll the tortilla up and place on a greased 9 x 13 baking dish. Place the tortilla seam down. Do the same until you run out of chicken and sauce. Now if you like enchiladas sauce, pour over the enchiladas. If not, you can skip the sauce.

Bake in oven for about 30 minutes. Once done, let it cool a bit or you'll burn your tongue. There's always one in my family that does that. sigh Serve with Spanish rice or beans.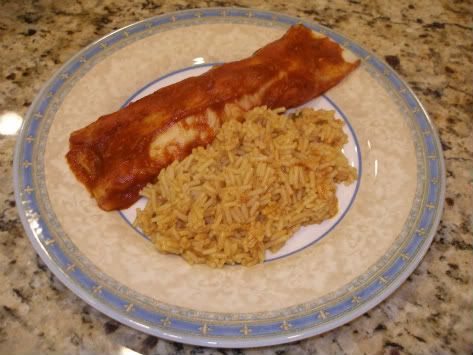 Bon Appetit!