I had a small BBQ at my home yesterday with friends and family. Nothing extravagant since to me it was mostly a BBQ and not a 4th of July celebration. I'm Canadian so I would be a hypocrite if I decorated my whole house in Americana. I don't know if I'll ever feel patriotic but I will respect it for my children's sake.

I downloaded these cone templates from Martha Stewart for my ice cream cones. I also blew some red and blue balloons to somewhat mark it's a 4th of July BBQ. lol We had chicken wings, chicken drumsticks, potato salad, rice (from my friend), fresh picked corn, rolls, watermelon, strawberries and dessert.
The jello and pudding was a hit with the children. For us adults, I made individuals blueberry cobblers with French vanilla ice cream. We had sparklers and a small firework. Scared the bejezzus out of my friends small children. I wasn't happy about that. Poor things were terrified. My kids had a blast. Typical.

For my friend's privacy, I will cover her children's face so no one can see them online.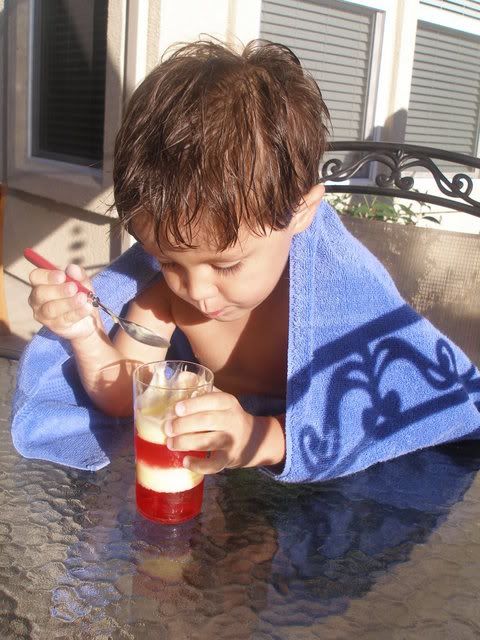 After they left, we lighted more sparklers and some crazy eyes. We also saw some of our neighbors fireworks. Some went as high up in the sky. Quite sure it was illegal. Also heard an ambulance in the distance. Not good. Overall, my family had fun and slept right away. Too bad they work up at 7am. soupir. And worst my battery died during the end. Dang!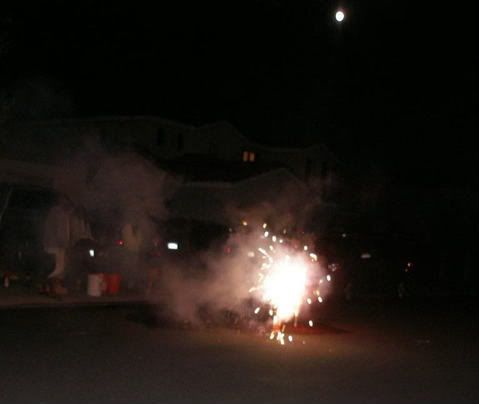 Merci Lydie et famille de participer a notre BBQ. J'espere que les petits n'ont pas eu trop peur avec les feux d'artifices du quartier. Bisous et a la prochaine visite!
A Bientot!