My hubby is easy to please when it comes to pancakes. He likes certain brands of pancake mixes. I always add a dash of vanilla paste to sweeten the batter. Makes a world of difference in the taste.

Last Sunday I wanted to make some homemade pancakes to continue the 4th of July celebration. Now these are buttermilk pancakes so they are not sweet. I still add a dash of vanilla paste just because we prefer it that way. You can opt not to add it. Your choice.

Ingredients

1 1/2 cup Flour
1 1/3 cup Buttermilk
1 stick Melted butter, cooled
2 Eggs
4 tsp Brown sugar
2 tbsp Vegetable oil
4 tsp Baking powder
1 tsp Salt
2 tsp Vanilla paste

Whisk the buttermilk, eggs, cooled butter and oil. Set aside.

In a medium bowl, sift the flour, baking powder and salt.

Pour the buttermilk mixture in the bow an. Let it rest for about 5-10 minutes.riddle

Spray your griddle with a non stick spray and put on medium heat.

Now add some of that batter and let it cook for about 2 minutes. Bubbles will appear on the top. Flip and cook for another 1 minute. If your pancakes are too brown, lower the temperature.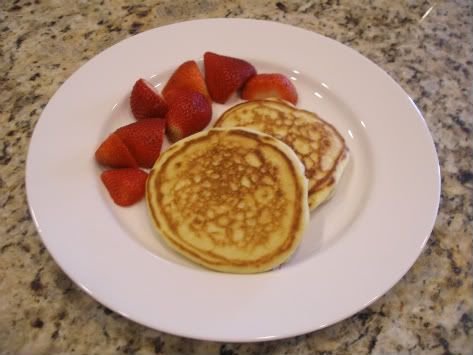 I like eating my pancakes with a pat of butter and some maple syrup. Hubby likes maple syrup and some jam. My kids likes them plain sometimes. Enjoy!

Bon Appetit!