Today, hubby and I went to Carmax to find me a new "used" car. I saw some online that looked promising and decided to test drive them. One thing I have learned years ago is that SUVs are not made for short people. It's a pain to climb into one. I liked my CR-V because it was not very high and was perfect for a pregnant woman. lol

This time I decided on a low SUV with a third rear seat but there are not too many out there. Most are high but the Honda Pilot and Mazda CX-9 are decent. I decided on the Mazda because it was much lower in height and the price was decent. I don't care for extras like moonroof, navig., leather, etc. Just a car to drive in with space. I can't tell you how nice it it to get into a car without having to "climb" in. sigh

Here we are looking at it for the first time. See how low it is compared to other SUVs? Perfect!
And here it is on our driveway. The one bad thing? It takes the whole lenght of our garage! lol This one is going to be with us for the next 9-10 years. Two cars in a year is too much for me.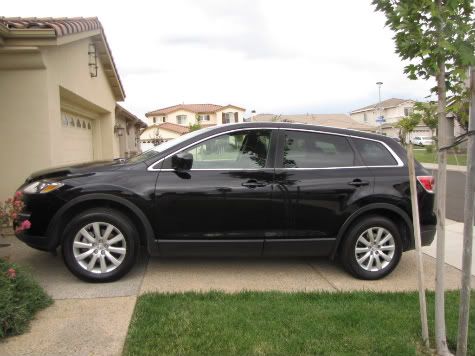 A Bientot!