Last Thursday I needed to get dinner ready but had no idea what to make. That whole day was left waiting for the car guys to let us know how my car was.
I had some chicken breast in the fridge so I decided to make soup with it. Now this is my own recipe made up at the last minute. I think it turned out ok but I could of made it yummier by adding ground chicken instead of cut up chicken breast. Or better yet! A rotisserie chicken all shredded up! Yup, you guys should do that! If you want it more thick, I would use half a can of one of the white beans and puree it then add it to the soup. So many possibilities!

Ingredients

1 Green bell pepper, diced
1 Onion, diced
1 Lime, halved
3 cups Chicken Stock
2 (15oz) Cans of Cannellini beans (while small beans)
1 cup Cilantro leaves, chopped and reserved
2 tbsp Olive oil
1 1/2 tsp Cumin
1 tsp Cayenne pepper (optional if you don't want any heat)
3 chicken breast cutlets, cubed and cooked (or a shredded rotisserie chicken)
Salt and pepper

Get a saucepan and saute the onions and bell peppers in olive oil on medium heat. Once the vegetables are tender, add the stock, cumin, half of the cilantro, juice of half a lime, cayenne pepper, pinch of salt, pinch of black pepper, white beans and cooked chicken.

Let is simmer for about 20-25 minutes. Taste and season to your liking. Sprinkle the rest of the chopped cilantro on everyone's bowl. I also tried using sour cream on top and it was yummy! You can use the leftover lime and slice it up and let people squeeze some lime juice if they want.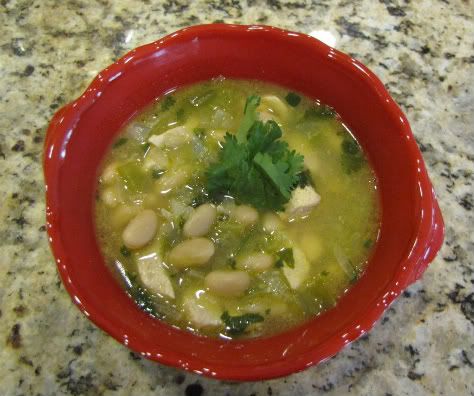 A quick pantry meal!

Bon Appetit!