As a child, I was lucky that my parents always fed us well. Whether it be homecooked or bought at the bakery, we always had sweets to eat. Pizzelles were one of my favorite cookies as a child. This is the only cookie that I really enjoy eating.


For those of you that have never eaten one, pizzelle is an Italian waffle cookie. You will need a Pizzelle iron to make these. When bought, pizzelles come in vanilla, anise and almond flavor. Nowadays, they also come in maple and chocolate. I love the maple one. I can eat the whole box. Well actually I have eaten on more than one occasion a whole box of those. soupir. Very dangerous once you bite into one. Pure bliss! Ready to fall in love with this cookie? Lets make it happen then! This is for a vanilla flavor one.

Ingredients.

1 3/4 cup Unbleached flour
3/4 cup Sugar
3 Eggs
1/2 cup Unsalted butter, melted
2 tsp Baking powder
1 tsp Vanilla extract
Non stick spray

First heat up your Pizzelle Iron at setting #3. Mine did better at #4.

In a medium bowl, add the flour and baking powder. Mix well.

In your mixer, add the eggs and sugar. Mix on medium speed for about 1 minute. Now lower the speed and add the melted butter and vanilla slowly. Mix for about 30-40 seconds. Now add the flour and mix until all is blended. Do not overmix.
Now open that bad boy of an iron and spray a little of that cooking spray. I only had to use it twice just in case it would stick.

Put about 1 or 1 1/2 tbsp of the batter. You will need to figure out where to place it so that the batter distributes evenly. Some irons have a bigger cookie size so it really depends on what you have. I have the Cuisinart one. Just over 1 tbsp was enough for me.
The light will turn green when it is done. Now this is where your preferences comes into place. It will be very light and soft at this point. I like mine darker and crisper, just like the ones I used to eat. Just leave it on for a few more seconds if you want it darker. You can open and peek to see if it's how you want it too. No foul.

Now get a soft spatula and remove it. Place it on a cooling rack. You can also shape it into a canolli but placing it on a wooden spoon. Once cooled, remove any excess cookie around the edge. That's my favorite part. hihihi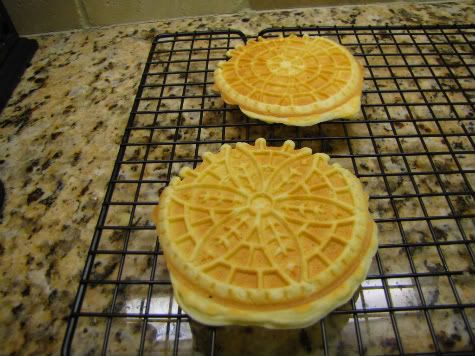 Now get a cup of coffee (or if tea is your thing, get that) and eat them. You can also sprinkle powder sugar. Also a favorite at my house.
This one ate 5 or 6. I lost count. lol