I was craving cookies on Tuesday. I am not a cookie fan so my cravings meant business. I remember seeing crinkle cookies online but had no idea where I saw them. I went to search on Google Reader to see if anyone has ever made them. Bingo! Sarah from
Vintage Chic Home
made some in February.

I have heard that crinkle cookies are soft, chewy cookies in the inside and that's what I like. A soft cookies but be careful, the powder sugar can get messy. Do no wear black. lol Here's her recipe. The photos are from me.

Chocolate Crinkle Cookies
1 cup unsweetened cocoa powder
2 cups sugar
1/2 cup vegetable oil
4 eggs
2 teaspoons vanilla extract
2 cups all-purpose flour
2 teaspoons baking powder
1/2 teaspoon salt
1/2 cup powdered sugar

In a medium bowl, mix together cocoa, sugar and vegetable oil. Beat in eggs one at a time, then stir in the vanilla. Combine the flour, baking powder, and salt; stir into the cocoa mixture. Cover dough and place in freezer for 30 minutes or chill in refrigerator for 4 hours.

Adding one egg at a time.
Adding the dry ingredients.
Preheat oven to 350 degrees. Spray cookie sheets with nonstick spray. Use a cookie scoop to scoop dough into one inch balls. Coat each ball with powdered sugar before placing onto prepared cookie sheets.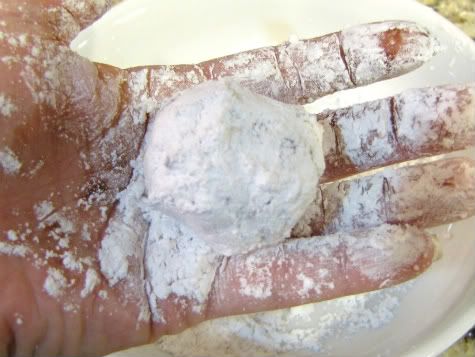 Bake in preheated oven for 10-12 minutes. Let stand on the cookie sheet for a minute before transferring to wire racks to cool.

My kids a lot of these. They remind me a bit of a brownie so it was moist. I think I will add these into my holiday cookie recipes. It's easy and tasty.

Bon Appetit!