With Thanksgiving coming soon in the US, I decided to tweak some of my recipes. It's not a holiday that I celebrated as a child but my husband is used to turkey and the whole trimmings. Man I hope he appreciates my efforts to make meals that he enjoys. lol

In my childhood, we ate brussels sprouts. I liked it but I think my brother did not. My mother used to boil them but they change color that way and I think maybe that's why some people are turned off my them. The best way is to steam them first. Then you can finish them off by pan roasting them in the oven or range. Here's how I make them. You can substitute pancetta for regular bacon if you want. I think some people even sprinkles them with brown sugar but I have never done it so no idea how that would taste.

Ingredients.

1- 1 1/2 lbs Fresh brussels sprouts
Panchetta (I had about 10-12 round slices. You can use about 8-10 slices of regular bacon)
2 Shallots, minced
1 clove garlic, chopped or minced
Olive oil
Salt and pepper

Now start by removing the outer layer of the brussels sprouts. Those are bitter and sometimes wilted. Take off a bit of the bottom stem then make a cross. Rinse them well.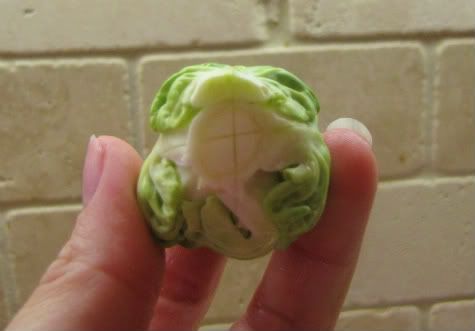 Now get a saute pan and add about an inch of water. Get the heat up until the water starts boiling. Add the brussels sprouts and season them with salt. Don't get stingy here. You want flavor and these poor guys always get a bad rep for tasting bitter.
Cover the pan and steam for abour 4-5 minutes. Remove them once done. Pour out any water if there's some left. Return to heat.

Chopped the pancetta (bacon) into 1/2 inch and fry them up. Do not cook it until it's crisp. You want them cooked but soft since it will get into the pan once more. Once cooked, remove them with a slotted spoon.

Fry baby! Fry!


Add about 1-2 tbsp of olive oil. Add the shallots and garlic. Cook for about 30 seconds. No more or you will burn them. Now add the brussels sprouts and pancetta. Cook for another 1 minutes. Taste and season accordingly. And voila!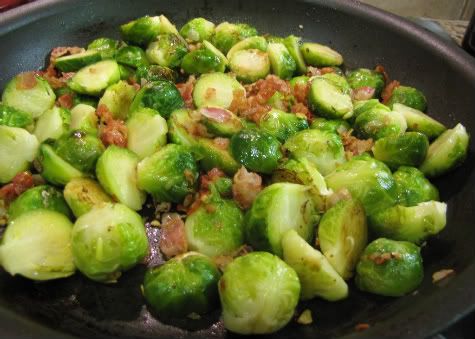 A bite for the cook...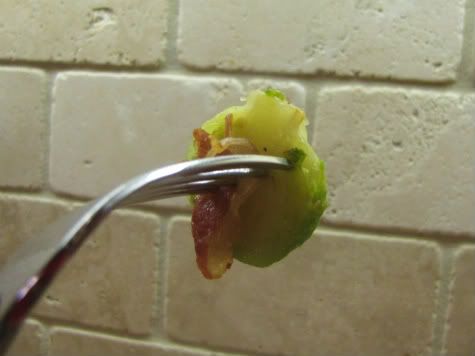 and a small plate for too.
My daughter loved it. The men? Hubby had 2 helpings but he's not a brussel sprouts man. He's not much of a veggie man. If I didn't cook them, he wouldn't eat them. sigh Is that how your man acts too?
Bon Appetit!