Direct your eyes to the right side of my blog. See a link where it says PW Home and Garden? I love reading that blog. Ree also has a cooking blog in case you didn't know. One of her latest recipes was for Beef and Brocoli Stir Fry. My kids love this dish when we order out but I'm not too crazy about it. The brocoli is always mushy and the sauce is sooo thick that it looks like a huge gelatin mass. Yuck.

This recipe comes from
Jaden
and it's so much better and healthier than what you get at some "Chinese" restaurants. I had to improvise on 2 ingredients since I haven't made a trip to my local asian market in 3 weeks. Bad Nancy! It tasted good with the substitution but I will have to try the original version. Of course. The recipe is copied from Ree's post. The photos are from moi.

Ingredients.

Jaden's Chinese Beef Broccoli (from
The Steamy Kitchen Cookbook
)

SERVES 4 AS PART OF MULTICOURSE MEAL

1 lb (500 g) top sirloin or flank steak, thinly sliced into 1/8-in (3-mm)-thick strips
1 1/2 lbs (750 g) broccoli, cut into bite-size florets
1 tablespoon high-heat cooking oil
1 tablespoon minced garlic

BEEF MARINADE
1 1/2 teaspoons soy sauce
1 teaspoon cornstarch
1/2 teaspoon cooking oil
Freshly ground black pepper to season the beef

STIR-FRY SAUCE
3 tablespoons oyster sauce
2 teaspoons Chinese rice wine (or dry sherry)
2 teaspoons Chinese black vinegar (or balsamic vinegar)

1. In a bowl, combine the ingredients for the Beef Marinade. Add the beef and let mari- nate for 10 minutes at room temperature.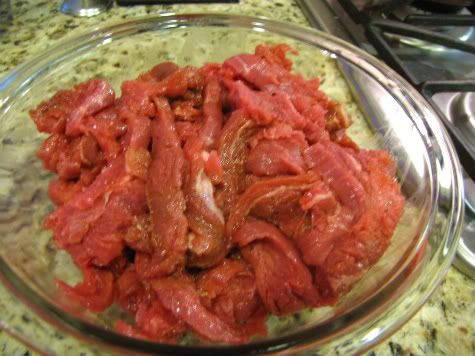 2. In a small bowl, mix together the ingre- dients for the Stir-fry Sauce.

3. In a wok or large sauté pan, add 1 inch (2.5 cm) of water and bring to a boil. Add the broccoli and cover to steam for 3 minutes. The broccoli should be bright green, crisp tender and you should be able to pierce the stem with a fork. Drain.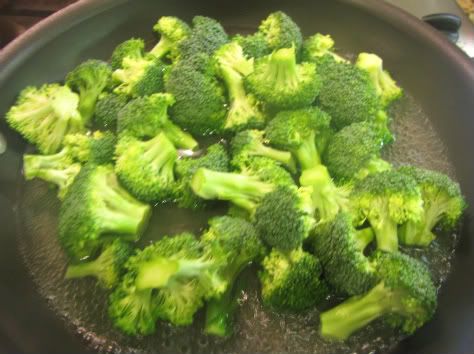 4. Discard the water in the pan and dry the pan well. Set the pan over high heat and when hot, add the high-heat cooking oil and swirl to coat. Add the garlic and fry for 15 to 30 seconds, until fragrant. Add the steak strips, keeping them in one layer and fry 30 seconds. Flip the strips and fry the other side.
5. Pour in the Stir-fry Sauce and stir to combine. Simmer until the sauce is thick enough to coat the back of a spoon, about 30 seconds. Add the cooked broccoli back into the pan and toss to coat well
My test taste plate. The cook always double checks her creation.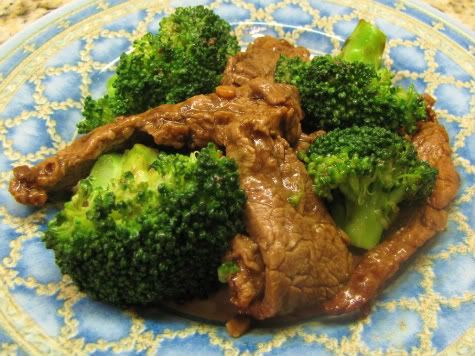 Here's a tip when cooking the meat. Don't just dump the whole thing for frying. Make it in 2-3 batches. Overcrowing it will just create steam plus it's much easier to flip them when there's space in between.
I served this dish with jasmine rice but you can have it as is. The whole family loved it. My daughter had seconds. It's a winner! The brocoli was tender but still intact. The beef was tender and savory. Now this is how Beef and Brocoli should look and taste like!
Bon Appetit!