Try to say that 5 times fast! Here's a salad that I found on
Erin's blog
. It's a bit on the sweet side so you can adjust the amount of maple syrup if you do not like it sweet. It's a nice salad when you are bored with regular romaine or butter salads. I didn't add the Gorgozonla gcheese because I had none so you can add some if you wish.

Lets make a salade!

Ingredients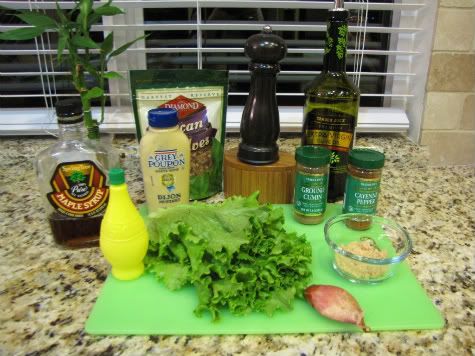 Spiced Pecans:
1 cup pecan halves
1 tablespoon brown sugar
2 teaspoons olive oil
1/2 teaspoon Cayenne pepper
1/4 teaspoon cumin
1/4 teaspoon salt

Combine the brown sugar, cayenne, salt and cumin in a medium bowl. Now add the olive oil and stir. Add the pecans and toss until it's well coated. Bake at 350 on a sheet for 10 minutes.

*** Keep checking the pecans and keep moving them so they get toasted all over. ***

Once done remove and set aside.



Maple Mustard Vinaigrette:

1/4 cup extra-virgin olive oil
1/2 tsp salt
1/2 tsp freshly ground pepper
1/2 tsp Dijon mustard
1 small shallot, minced
2 tsp fresh lemon juice
2 Tbsp maple syrup

Whisk all the ingredients except for the olive oil in a small bowl. Now slowly add the olive oil in a steady stream and whisk quickly.
Salad:
8 cups Mixed Salad Greens
2 Bartlett Pears, cut into thin slices
Gorgonzola cheese

Combine the mixed salad and dressing in a large bowl. Toss well. Add the pears and spiced pecans.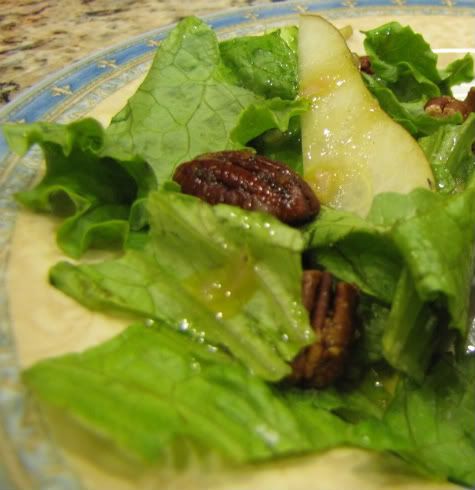 Maybe add a new type of salad for this holiday season along with your regular one. Who knows? This might make your kids eat salad. Also, the spiced pecans are great for snacking so store and hide them or you won't have any left for the salad itself. Not that I personally know about it...I have some self control...some.
Bon Appetit!