In our house, we love pork tenderloin. How can you not like this cut of meat?! Always lean and tender. They are a bit more expensive than other pork cuts but if you get them on sale, they are very affordable.

Here's another way to make pork tenderloin. This came from All Recipes and the only change I made was using less garlic. The original calls for a lot more garlic cloves. Not a first date kind of meal if you know what I mean. lol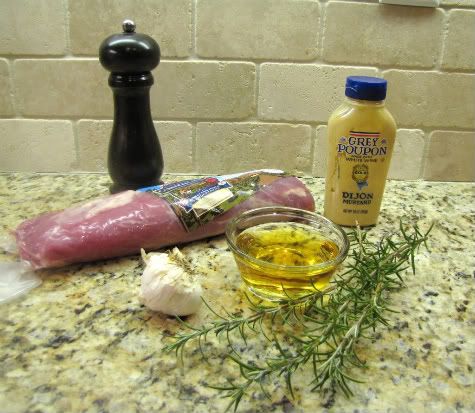 Ingredients.

3lbs Pork tenderloin (mine always comes in 2's)
1/2 cup Apple juice
1/4 cup Fresh rosemary, chopped
1/4 cup Dijon mustard
4 cloves of garlic, minced
1 tsp Freshly ground black pepper

Remove silver skin from the pork tenderloins. Set aside.

In a large bowl, mix apple juice, rosemary, Dijon mustard, garlic and black pepper. Reserve 1/3 cup of the marinade. Add the pork in the bowl, cover and let it marinade for at least 30 minutes in the fridge.
Preheat oven to 350.

In a oven proof baking dish, spray it with non stick cooking spray. Remove the pork from the bowl and place it in the baking dish. Disregard the marinade from the bowl.

Pour the 1/3 cup of reserved marinade on the pork. Cook in the oven for about 40 minutes until the internal temperature is 160. Once cooked, let it rest for 10 minutes so that the juices stays within the meat. Slice and pour some of the juices from the baking dish on the slices.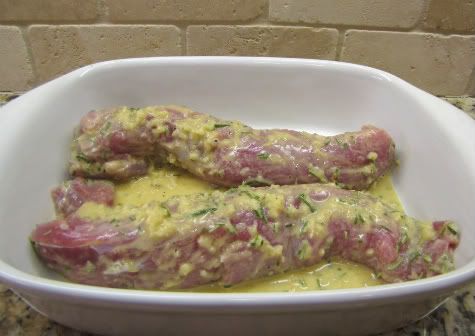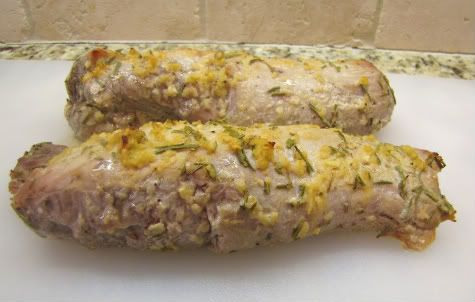 I really like the taste of it. The meat was tender and flavorful. My daughter asked for seconds. Well to be honest, she always asks for seconds when it comes to meat. lol It's an easy dish that looks and taste like a chef made it. Try it!

Bon Appetit!