In our family, we eat fish at least once a week plus any seafood dishes too. It's good for them to broaden their palate and not be so squeamish in trying new foods. My husband loves salmon so I decided to make it for dinner. It's also a quick meal to prepare if you have less than 30 minutes to cook.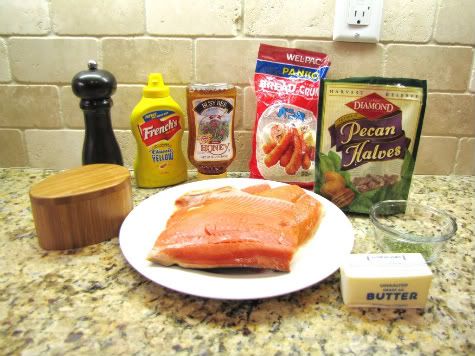 3 large fillets of salmon
1/2 cup Panko
1/2 cup Pecans, chopped finely
3 tbsp Butter, melted
3 tbsp Dijon mustard (I didn't have Dijon so I used regular mustard)
5 tsp Honey
2 tsp Parsley (3 tsp if fresh)
Salt and pepper


Preheat oven to 400.

In a small bowl, mix the mustard, honey and melted butter. Whisk well.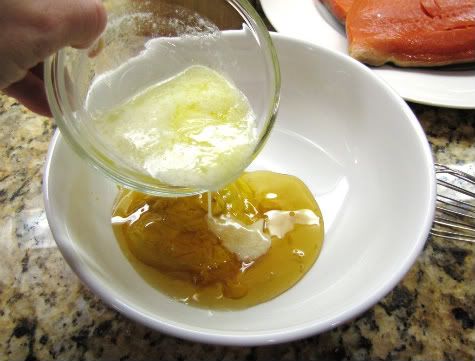 In another small bowl, combine the panko, parsley and chopped pecans. Mix well.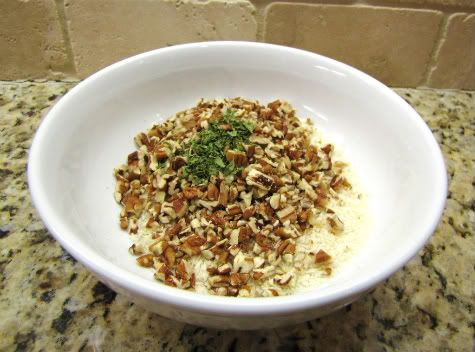 In a baking dish, spray it with non stick spray and place your salmon fillets. Season them with salt and pepper.

Brush the fillets with the honey mustard mixture then coat the top with the pecan coating.

Cook the salmon 10 minutes for every 1" thick. Mine took me about 20 minutes.

Now cut your fillets in 2 unless you are my husband and eat the whole fillet. He doesn't care that a normal serving is 4 ounce. lol

I served mine with a butter salad and orzo with some spinach. The coating is nice and has a nice crunch. I liked the honey mustard on the salmon. A nice change.