I wish I could tell you guys that it's 100% done but it is not. It's almost done. Here's a sneak peak of what it looks now. Curious? Yeah, I'm also curious about other people's home decorations. lol
Here's how my room looked before the changes.
I think it may need something flanking the picture frame? What do you guys think?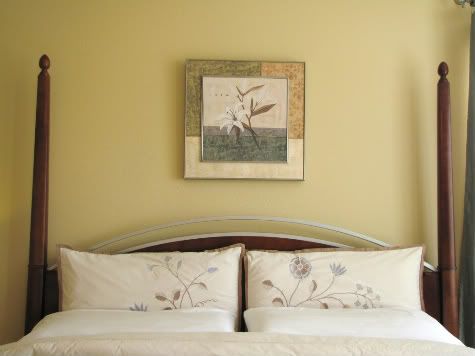 I love these curtains! They are also blackout curtains which my husband likes very much. The man is not a morning person. Enough said.
These lamps are from Target. I love how sleek they are. They are also very heavy so be carefull when bringing them home in your car. lol
My husband side needs something but for now, it will do.
I'm still looking for the perfect "thing" for this wall. I can't put my armoire or the door will hit it or I won't be able to turn on the lights. Kinda important. I was also thinking of a large dressing mirror leaning against the wall. What do you guys think?
I still have to find something to put on my dresser wall and the perfect accessories for the dresser itself. It has the same things on it for almost 10 years. I need a change! lol
I hope you guys enjoyed having a sneak peek into my bedroom decor. I think it looks so much better and less "sterile". Now I actually smile when I go into my bedroom instead of by passing it to get to my closet. Do you like your bedroom? Is there anything you would like to change? Do tell!