Here's a yummy taco recipe. It's quick and the kids can make their tacos however they want. I like mine simple. shredded cheese, sour cream and shredded lettuce.
I saw it on Lovestoeat's Weblog. It's originally from Illustrated Cooks. Here's my adapted version.
1/2 cup tomato sauce (I used just under 1/2 cup)
1/2 cup chicken broth (I used just under 1/2 cup)
2 tsp apple cider vinegar
2 tsp chili powder
1 tsp ground cumin
1 tsp ground coriander
1/2 tsp dried oregano (I used fresh oregano from my garden)
1/4 tsp cayenne pepper
2 tsp olive oil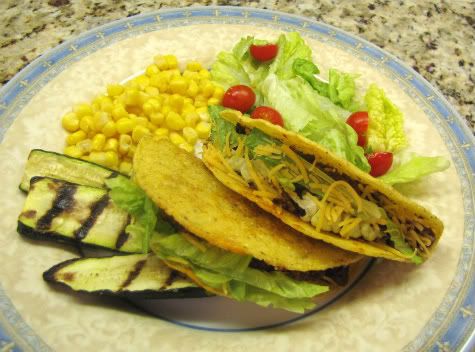 In a skillet on medium high heat, pour the olive oil until it gets hot (not smoking). Add the chopped onion and saute until they are soft. Add the garlic, a pinch of salt and the spices and cook for about 30 seconds.
Add the ground meat and cook until it's done.
Add the tomato sauce, chicken broth, brown sugar and apple cider vinegar. Simmer for about 10-15 minutes until most of the liquid have been reduced. You want the meat to stay moist and not dry. Once done, assemble the tacos the way you like it.